We hope you will find this Letter interesting and useful.
Let us know what you think of it.



PWL#102B
Mid Month Bulletin No.70
15 February 2012

PWL#102B - Resources on weld failures, weld failures prevention, Failure Analysis, fatigue failures, Welding Failures investigations, hydrogen failures, plastic joint failures, Role of HAZ, Material and Component Failures, Boiler System Failures, Fractographic-examination, Weld Cracking, Failures of Dissimilar Metal Welds, Preventing Weld Corrosion, Post Weld Heat Treatment, Collapse Prevention and much more...
---
Mid February Bulletin
15 February 2012 - Resources on Weld Failures Prevention - Bulletin 70
---
Sponsored Links
Introduction
DON'T USE REPLY to send your messages! Use Contact Us instead.
A page of the website was dedicated to this subject.
Click on Welding Failures to see it.
The point is made that Failures represent an excellent occasion to learn how to prevent them in the future, if a thorough investigation is initiated to determine the root causes of the accident.
Hereafter are collected various resources available online, and a few more that can be purchased, to address the problems from different points of view and to show practical instances where the knowledge gained helped improve the state of the art.
It would be a pity to dismiss the opportunity to learn and to gain invaluable insight for future applications, only because the failed element must be repaired or substituted in the least possible time.
I would like to urge readers having first hand experience of such occurrences, where their investigations provided information useful to avoid future accidents, to send a short note on the lesson that was learned, for the benefit of all readers.
The addresses reported hereafter were live and correct at the time of their publication. There is no guarantee that they will always be so, because they are administered by the sources themselves and are under their control.
Note: References to articles or other documents are given here in one of two forms. If the links are "live" (usually underlined or otherwise highlighted) they are operated with a click of the mouse.
If they are URL's (Uniform Resource Locator), which is the analogue of an address, they begin with "http://..." or "www.". These are not live and must be copied and pasted entirely into the browser (after having selected them with the mouse or otherwise). If they are long they may be displayed in two or more lines. In that case one has to care that the URL be copied completely in a single line without any space, and Enter.
If the information is important to you, you may save the selected pages in a suitable folder on your Computer for easy reference. You are welcome to forward this page to those of your friends who may profit of this information.
* * *
Resources
Fact Sheet: Material/Weld Failures
http://primis.phmsa.dot.gov/comm/FactSheets/FSMaterialWeldFailure.htm
How to prevent weld failure
http://www.gowelding.com/weld/failure/failure.htm
An Introduction to Failure Analysis for Metallurgical Engineer
http://www.tms.org/Students/Winners/Davidson/Davidson.html
Advanced Thinking to Revolutionise Welding
http://www.azom.com/news.aspx?newsID=19336
Fatigue Failures
http://www.thefabricator.com/article/weldinginspection/fatigue-failures
Welding Failures Investigations
Click on PWL#066.
Understanding Hydrogen Failures
http://www.aws.org/wj/jan04/still_feature.html
Plastic Welding: Failures of Plastic Welding Joints
http://www.plasticsmag.com/welding.asp?fIssue=Mar/Apr-01&aid=3212#top
The Role of a Heat Affected Zone (HAZ) on Mechanical Properties
in Thermally Welded Low Density Polyethylene Blown Film (41 pages)
eBook.
Investigating Material and Component Failure (30 pages)
http://www.tcreng.com/download/tcr-whitepaper-failure-analysis.pdf
GE Water & Process Technologies
Chapter 14: Boiler System Failures
GE.
Study Looks at Failure Prevention of Small-Bore Piping Connections
Power Online.
Welding Data: Visual Inspection and Corrections
http://www.arcraftplasma.com/visual.htm
Update: Benchmarking Boiler Tube Failures (5 pages)
Powermag.
Failure of Spot Welds under In-plane Static Loading (7 pages)
UMich.
Fractographic-examination for the analysis of mechanical failures
Technobig.
Purging for Pipe Welds - On Corrosion-Resistant Metals.
http://www.intercononline.com/welding/ypurge.htm
Preventing Fatigue Failure with Ultrasonic Impact Treatment
Applied US1.
Fatigue Strength of a Longitudinal Attachment
Improved by Ultrasonic Impact Treatment (12 pages)
Applied US2.
Joint Failures - Pipe And Fitting Related
http://www.elchem.com/joint_failures.htm
Common Weld Defects in Thermal Power Plants
(Presentation - 20 frames)
Author Stream.
Weld defects and quality control (17 pages)
http://bbssystem.com/manuals/Aluminum-Welding/35679_11.pdf
Analysis of Gas Pipeline Failure (4 pages)
Element.
Failure Avoidance in Welded Fabrication
http://www.nationalboard.org/Index.aspx?pageID=164&ID=187
Weld Cracking (5 pages)
Lincoln.
The Challenge of Welding Jumbo Shapes (12 pages)
http://www.jflf.org/pdfs/papers/jumboshapes.pdf
Catastrophic Failure of a Dissimilar Metal Weld
in a High Pressure Steam Venturi (Abstract)
http://aiche.confex.com/aiche/s10/webprogram/Paper176142.html
Top 10 Things to Teach Novice Welders
Note: The original link to "Miller Welds" is now invalid: to reach the article search
https://www.millerwelds.com/en/resources/article-library
or contact millerwelds
Trouble Shooting for Aluminum Welding
AlcoTech.
Preventing Weld Corrosion (Download) (4 pages)
ASM International 1.
You may have to type the title "Preventing Weld Corrosion" in the Search Box appearing on top of page and GO. Then Click on the first item of Results, and download.
Failures Related to Welding (Published: 2002) (36 pages)
From: ASM Handbook Volume 11, Failure Analysis and Prevention.
[Can be purchased online, for $30 (Members $24)]
see detailed review at ASM Store:
ASM International 2

ASM 06593G: Weld Integrity and Performance (Book for sale)
http://www.normas.com/ASM/pages/06593G.html
Welding and Postweld Heat Treatment of P91 Steels (4 pages)
http://files.aws.org/wj/2010/04/wj201004/wj0410-33.pdf
Applications of Local Post Weld Heat Treatment in Manufacturing Oil Field Equipment
(Commercial Company presentation, 34 slides)
ASME.
Creep Failure Characteristics in P23/P91 Dissimilar Welds(6 pages)
Metal.
Investigation of a Modified 9Cr-1Mo (P91) Pipe Failure
(11 pages)(Download from...)
ORNL.
Post Weld Heat Treatment of Welded Structures (10 pages)
http://www.wtia.com.au/pdf/GN6%20PWHT.pdf
Practical Means for Collapse Prevention (Presentation - 86 slides)
NIST.
Information
Links to the Mid Month Bulletin Pages are listed in the regularly updated page on Welding Resources (Opens a new Window).
We urge our readers to Bookmark this page or to subscribe to our Welding Site Blog by clicking on the orange buttons under the NavBar in each Website page, to get immediate notice of every new published page.(www.welding-advisers.com)
You may also click periodically on the Welding Blog button in the NavBar.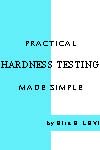 If you think that this page might be useful, you are invited to forward it to a Friend.
If you received this page from a friend, please note that you can get at no cost every new issue of Practical Welding Letter, by clicking on Subscription (Opens a new Page).
You will also receive a bonus book on

Practical HARDNESS TESTING made simple.
If you want to contribute from your thoughts and experience visit our new page reachable by clicking on Welding Talk and typing or copying directly in the form.
Your comments are welcome.
---
Important Announcement
Google announced a change to their Privacy Policy effective
1 March 2012.
Join the Petition to Make Google Ask Fairly at
http://www.change.org/petitions/google-ask-fairly-about-our-privacy#
Google can use and abuse our privacy however they like. It's their business. BUT...
They have to get permission from their users. HOW they are "getting permission" is all wrong.
They have to ask. They have to ask FAIRLY.
In short, here's that policy...
"You can opt-out by not logging into any of our services."
What Google wants to do is not FAIR. Stop them by signing this petition:
http://www.change.org/petitions/google-ask-fairly-about-our-privacy#
Send us Comments, Feedback and your Original Contributions!

---
How could you start an Online Business?
Watch the video...
Click on the following image to watch the SBI! TV Show!

POWERED BY:


Click on this Logo NOW!
Copyright (©) 2012, by Elia E. Levi and
www.welding-advisers.com
All Rights Reserved
See you next time...