Welding-talk,
sharing personal experience
Share Your Own Experience!...
Welding Problem? Solve it! with
Help from a Welding Professional
Contact Us.
Welding-talk is a new Page prepared to assemble Readers' comments, feedback, opinions, experience, contributions, and stories that our visitors may wish to share with the audience.
We believe that many of our readers are experts in their own field of activity.
They sure have interesting stories and experience to tell and they may be ready to share them with the community of those who visit this website.
You are hereby invited to join in and to have your Welding-talk heard by people who have much in common with you, and who may benefit from your contributions.
We all will be thankful! Please write your Welding-talk in the form further down this page and your fellow readers will avidly read your words.
---
The following is a bit of useful information from David J. Keats of Speciality Welds, reprinted with permission from "Fusion Line",
Speciality Weld Newsletter, Issue 24, 2007
www.specialwelds.com
UK machine manufacture, Newark, visited us to discuss the Swordfish arc cutting electrodes, for a somewhat unusual MoD application. With a site visit to BAE Systems necessary in order to demonstrate the product to cut damaged tracks from an armoured vehicle, using only the vehicles power supply. Master welders from the MoD confirmed Swordfish performed well and was able to cut the track considerably quicker and neater than the current method and was also easier to use. The photo shows the cut line in one of the track knuckles.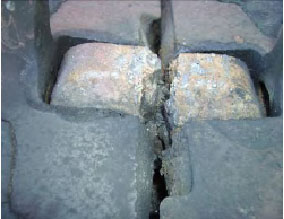 ---
From William Heltsley, Research Assistant, Stanford University
Dear Elia,

I have been a faithful reader of your newsletter for a long time, and I just wanted to congratulate you on achieving 50 issues! While I am only moderately proficient at welding myself (although I enjoy it for small assemblies in the lab and personal projects) I am a mechanical engineer and greatly appreciate the summarized information you provide about new and old techniques, tools, and materials. Your newsletter is a valuable resource for me, as it teaches me more about the techniques that are available and how to design for manufacturability when welding processes are present, and I will continue to enjoy it as long as you produce it!
Yours,
Will
---
From C. Sridhar
Dear Elia LEVI,

Thanks for producing GOLDEN JUBILEE Practical Welding Letter.

Believe me, I have kept all the letters in my Technical File and use them often for reference.

I like not only the contents there in , but also the web - references which are very very useful in one way or other.
Please keep it up, hope to see Platinum, Centenary PWLs also in a short time.
regards,

C SRIDHAR.
---
NOTE: This page contained a Form for readers to add the story of their experience. Not many enjoyed this occasion.
Upon discontinuing all activity, also this facility is removed.
* * *
---
POWERED BY:


Click on this Logo NOW!
Watch - The Video:

and also

Copyright (©) 2007, 2008, 2009, 2010, 2011, 2012, 2013, 2014, 2015, 2016, 2017
by Elia E. Levi and www.welding-advisers.com
All Rights Reserved.