A subscription Invitation
Not-to-be missed!
WELCOME
to our FREE Subscription Page
Your subscription is taken here!
NOTE: By Nov. 20, 2017 this page is left on for documentation only.
Upon ceasing of all activities, this website is accessible for reading only.
Published PAST ISSUES of Practical Welding Letter can be found at:
Index of Past Issues of PWL.
From now on no newsletters are written and no subscriptions are taken.
Your subscription here!
We respect YOUR PRIVACY:
We promise we will never sell or give away your e-mail address.
We will use it ONLY to send you our opt-in Practical Welding Letter and any information we may judge to be of some use to you.
You will always have the possibility to unsubscribe to be deleted from our list.
---
Visit the NEW Page on Welding Overview, for a thorough Introduction to Welding.
Visit also the NEW Page on Process-selection, for Understanding the Selection procedure and
the NEW Page on Process-optimization for improved productivity.

---
As a courtesy to our readers, upon ceasing this website activities
the booklet shown hereafter is now downloadable by all.
Go to page Hardness Testing Book.
We leave here the invitation as it was active originally.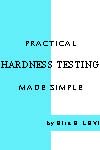 As a token of appreciation for letting us include your name in our mailing list, with the above guarantee of secrecy, we would like to offer you to download right to your computer our book on PRACTICAL HARDNESS TESTING MADE SIMPLE.
We believe it could come in handy for helping you solve your hardest welding problems. You are already right on the Subscription Page: subscribe now!
But first let us complete our two-stages procedure. It is called the Double Opt-in Process. This is to protect you from any third party's initiative of submitting, without your consent, your e-mail address. You will receive from us a message asking you to confirm your agreement.
Just follow the instructions you will get in our e-mail message of confirmation you will receive shortly after we register your e-mail address.
Yes, send me your FREE periodic Practical Welding Letter to my address below: and tell me how to unload your booklet FREE

In this space a Form was appearing, asking for details
to issue the requested Subscripton.
Since the Subscription is from now on unavailable
The Form itself is being canceled.
Thank you for subscribing. We hope you will enjoy this Letter. We welcome your comments. Write us! Click on the Contact Us button in the Navigation Bar on the left. FYI: we are now past the 100th issue and in our 10th year of publication!
Note: For later Changes of Address please remember to send us Both the Old and the New addresses, otherwise we cannot perform what you request.
Forward this Page to your Friends! They will be grateful to you for your valuable recommendation. Ask them to subscribe too, to share with you important welding information!
As a new Subscriber you would probably want to see what PWL is like.
Click on Welding Topics to find past Articles.

If you know which past issue of PWL you would like to read, find the link at:
Index of Past Issues of PWL.
Find valuable Online Information!
Click on Welding Resources
---
If you did not yet find what you need, why not typing your question in the following Search Box?

---
---
Untitled
[From https://www.welding-advisers.com/100-stainless-steel.html]
To reach a Guide to the collection of the most important Articles from Past Issues of Practical Welding Letter, click on Welding Topics.
Friction Welding Processes
Friction Stir Welding
Friction Surfacing
Flash Welding Process
Stud Welding
Upset Welding
Resistance Welding Processes
High Frequency Resistance Welding
Projection Welding
Gas Welding Processes
Arc Welding Processes
High Energy Welding Processes


Watch the following Video on
Friction Stir Welding Demonstration
https://www.youtube.com/watch?v=jCe8-QYKZf4&NR=1&feature=endscreen
---
---

Watch the video...
See a short Interview with Ken Evoy
Watch the following video...

POWERED BY:


Click on this Logo NOW!
Copyright (c) 2003-2008, 2009, 2010, 2011, 2012, 2013, 2014, 2015, 2016, 2017
by Elia E. Levi and www.welding-advisers.com
All Rights Reserved