We hope you will find this Letter interesting and useful.
Let us know what you think of it.


Welding Problem? Solve it! with
Help from a Welding Professional
Contact Us.
PWL#124
Practical Welding Letter No.124
December 2013
Friction Welding for Joining Dissimilar Metals, Predicting Ferrite Numbers using Mr. Kotecki's Spreadsheet, Filler Metal for manufacture of Nuclear Components per ASME Code requirements, Fracture Mechanics update and influence of specimens type and size on test results, Material Characterization update, Advances in Laser surface heat treatment and modification and much more...
---
December 2013 - Practical Welding Letter - Issue No.124
---
Important Notice
Question: Which is the most invisible sentence published monthly in this Practical Welding Letter?
It is the following one:
DON'T USE REPLY to send your messages! Use the Contact Us form instead.


However highlighted it is regularly ignored by at least one reader of good will who hastens to send us a few kind words...
It should not be too difficult to understand that the use of REPLAY (just for obtaining our e-mail) is not required...
This publication brings to the readers practical answers to welding problems in an informal setting designed to be helpful and informative. We actively seek feedback to make it ever more useful and up to date. We encourage you to comment and to contribute your experience, if you think it may be useful to your fellow readers.
Click on Contact Us (opens new page).
You are urged to pass-along this publication to your friends, if you like it, and if you think it may help them. If you received this from a friend and if you like what you read, please subscribe free of charge and you will also receive a bonus book on Practical HARDNESS TESTING Made Simple.
Click on Subscription (opens new page).
The addresses reported hereafter were live and correct at the time of their publication. There is no guarantee that they will always be so, because they are administered by the sources themselves and are under their control.
Note: References to articles or other documents are given here in
one of two forms. If the links are "live" (usually underlined or otherwise highlighted) they are operated with a click of the mouse.
If they are URL's (Uniform Resource Locator), which is the analogue of an address, they begin with "http://..." or "www.". These are not live and must be copied and pasted entirely into the browser (after having been selected with the mouse or otherwise). If they are long they may be displayed in two or more lines. In that case one has to care that the URL be copied completely in a single line without any space, and Enter.
If the information is important to you as we hope, you may save the selected pages in a suitable folder on your Computer for easy reference. You are welcome to forward this page to those of your friends who may profit of this information.

(Sponsored Links)
---
TABLE of CONTENTS

1 - Introduction

2 - Article - Friction Welding for Joining Dissimilar Metals

3 - How to do it well: Predicting Ferrite Numbers

4 - Filler Metal for manufacture of Nuclear Components

5 - Online Press: recent Welding related Articles

6 - Terms and Definitions Reminder

7 - Article: Fracture Mechanics and Material Characterization

8 - Site Updating: Hot Pressure Welding (R), Hydrogen Embrittlement (R)

9 - Short Items

10 - Explorations: beyond the Welder

11 - Contributions:Laser Surface Heat Treatment and Modification

12 - Testimonials

13 - Correspondence: a few Comments

14 - Bulletin Board
---
1 - Introduction
Hello and welcome to this 124th Issue of Practical Welding Letter for December 2013.
While it is generally known, at least in principle, that Friction Welding can provide successful welded joints in difficult dissimilar metals combinations, it is comforting to appreciate that even automotive mass production industry has adopted this kind of processes for their unquestionable advantages.
Predicting Ferrite Number based on chemical composition is a calculation provision likely to avoid unpleasant surprises in actual welding. Such an aid is now available to anyone who may need it in actual work.
Code interpretation is an art requiring long familiarity with Codes and experience in their application. A publication providing advice and help in pointing out essential requirements for nuclear component fabrication should come as a welcome surprise. See section (4).
If Fracture Mechanics has the power to turn you down whenever you meet it, you should think again, and read the original article pointed to in section (7).
Maybe the subject is somewhat complex, but the fundamentals can be mastered by anyone to gain essential understanding. Special attention is needed to compare test results from different labs that may use different specimens.
Material Characterization too has become a wide subject, as specialized testing procedures are adopted to assure fail safe components for their whole service life.
Laser Surface Heat Treatment and Modification (11) can provide new and cost effective ways to improve economically surface properties of critical components.
It should be not too difficult to set up a limited scope development program if improved targets can be defined where required.
For the website updated and revised pages we dealt with Hot Pressure Welding (R) and Hydrogen Embrittlement (R).
The other sections can be found at their usual place, providing reference to informative sources of knowledge for those who like to keep in contact with the changing landscape of industrial and scientific progress.
Readers looking for information are urged to browse the Site Map page or to type the keywords of their query in the search box appearing on almost every page of this website.
Readers are invited to ask their questions but to provide full details on their problems. Sloppy questions are only a waste of time.
We hope you will enjoy reading, while learning (perhaps...) some useful updates on certain subjects, and being spurred to research in some more depth the subject nearest to your interests. Comments and feedback are welcome. Please DON'T USE REPLY. Fill instead the Contact Us Form.
---
2 - Article - Friction Welding for Joining Dissimilar Metals
In this rapidly changing technological world, there is a continuous need to keep abreast of advancements, not to miss fabricability opportunities.
The most active in this perennial search, are those who feel the pressure of increasing competition in a shrinking market affected by overproduction capabilities.
The automotive industry is subjected to multiple forces, having to contend with conflicting requirements, like improving efficiency through vehicle weight reduction, limiting emissions, adapting to more economic fuels and improving security for users, while reducing costs and assuring reliable quality.
We raised the problem and one possible solution, albeit still being improved, in our short article on Friction Stir Spot Welding and Refill, published (7) in our PWL#110 for October 2012.
In that same issue, the second article in the Press Review (5) reports on a technology to weld steel and aluminum together.
As the technology advances rapidly, we think that our readers might be interested in following the progress some more in depth, by browsing through the following selected references.
North American Manufacturers Embracing Friction Welding
PDD.
Friction Welding to Join Dissimilar Metals (11 pages)
Academia.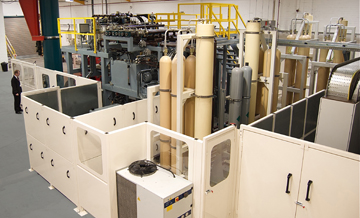 [From Design News:
New Machine Expands Friction Welding Applications
Design News.

In the past we proposed the Bulletin 46, dedicated to resources on Fricion Stir Welding (FSW). It is found with a click on PWL#078B (Bulletin 46).
On Joining Dissimilar Metals we published (7) an article in PWL#097. Down that same issue, in the part called Bulletin 65, a list of Online Resources on the subject is available.
---
3 - How to do it well: Predicting Ferrite Numbers, using Mr. Kotecki's Spreadsheet.

On Ferrite Number we dedicated an article in PWL#119 (3) wherein other references are also listed.
Now we would like to show to our intersted readers, in case they did not find this by themselves already, the calculation aid prepared by Damian J. Kotecki of international renown, and graciously offered at no cost to anybody asking for it.
Damian J. Kotecki publishes in the Welding Journal, in his periodic column of Q&A on Welding Stainless Steels, most practical articles that we frequently point out to our readers.
In the WJ, November 2013 issue, at page 18, he describes the history of the software programs that were developed along the years, to provide for Ferrite Number (FN) calculations.
Unfortunately the commercial solutions that were made available in the past are either not supported anymore by current computer Operating Systems or the websites that offered them are not reachable online.
Therefore the author of the above column undertook to develop a solution for his own use, in the form of an Excel Spreadsheet.
After having controlled that his predictions agree within a few tenth of one FN values with those given by ArcWorks, that includes previous software repackaged by Lincoln Electric for public use, Mr. Kotecki generously offers it at no cost to anyone asking for his Spreadsheet.
Here are the finals lines of his article as published on the Welding Journal, November 2013 issue:
"So, I am confident that the spreadsheet is sufficiently accurate for any prediction purpose. I offer it without charge to everyone. E-mail your request to damian@damiankotecki.com, and I will send the Excel® spreadsheet promptly."
Readers are urged to seek the original article to learn on this development and then to download their spreadsheet copy.
---
4 - Filler Metal for manufacture of Nuclear Components

We all know by experience how difficult it may be sometimes to be certain of the correct interpretation of specific requirements spelled out in binding technical documents. Therefore we should always be grateful of those articles explaining clearly the real requirements of Codes.
A good example of such a document, that we should be able to retrieve easily when needed, is an article by Walter J. Sperko, member of several AWS Commissions, published at page 56 in the November 2013 issue of the Welding Journal.
The objective of the article, which refers specifically to the manufacture of Nuclear Components, is to explain in simple terms how to buy electrodes, wire, flux, and other welding consumables to meet the requirements of ASME Boiler and Pressure Vessel Code, Section III.
For those quite not familiar with the matter, part of the difficulty stems from the cross references, like those that require conformance to Section IX, if not already covered otherwise.
The article continues with the requirements of Qualifying Manufacturers and Distributors of Welding Consumables, of Welding of Consumable Test Coupons, of Chemical Analysis and of Mechanical Testing of the Weld Metal.
Once the requirements for a specific job are well defined, it is probably not exceedingly difficult to comply with all requirements. But that certainly needs order and discipline in collecting and organizing all relevant paperwork to record and demonstrate full compliance with code requirements.
Interested Readers are urged to seek the original article referred to above.
---
5 - Online Press: recent Welding related Articles
3-D manufacturing next Industrial Revolution?
Sorry! The Source, website:
http://www.daytondailynews.com/news/
removed the link.
New automatic welding system makes car production cheaper
Cordis.
Modeling Processes Depends on Your Application
RD Mag.
First TIG narrow gap welding handbook available
Sorry! The Source, website
http://www.energyglobal.com/news/
removed the link.
Manufacturers ignoring welders' health
MAN.
---
6 - Terms and Definitions Reminder
Carbon Arc Welding is the process that uses an arc between a carbon electrode and the weld pool, with or without shielding and without pressure.
Double Bevel Edge Shape has two prepared surfaces adjacent to opposite sides of the material.
Forging Speed in Friction Welding is the relative velocity of the workpieces at the instant when the forge force is applied.
Hot Isostatic Pressure Welding is a diffusion welding process variation that produces coalescence of metals by heating and applying hot inert gas under pressure.
J-edge shape is formed by the combination of a bevel with a bevel radius.
Laser beam inert gas cutting is a variation that melts the workpiece and uses inert gas assist to remove molten and vaporized material from the cut.
Oxyfuel gas cutter is an operator who performs oxyfuel gas cutting.
Weld Joint Mismatch is the misalignment of joint members.
---
7 - Article: Fracture Mechanics and Material Characterization
The Advanced Materials and Processes (AM&P) magazine is an ASM International publication always rich with innovative reports and interesting stories.
It helps curious readers stay updated in a larger range of subjects, than their usual occupation would entail.
It is therefore a source of knowledge and surprise that cannot be lightly dismissed by those who pride themselves as up-to-date experts in materials technology.
The current issue, of November-December 2013, is a treasure of informative articles likely to remain a must reference to consult for years to come.
In particular our readers could like to be informed on the following subjects.
If you are like the many of us who studied the fundamentals of Fracture Mechanics years ago, and had since little occasion to practice and work on it, then you could benefit from the article How Specimen Geometry and Microstructure Influence Fracture Toughness Properties of Ferritic Materials, at page 13 of that publication, to be bookmarked for further reference.
The article explains that the many standards that specify tests to evaluate basic fracture properties of real constructions, dedicate only scanty attention to the subtle factors related to specimen geometry and microstructure, which may influence the measured value of fracture toughness.
Furthermore, these test procedures were developed for base metals, without any guidance for characterizing the toughness of welds and heat-affected zones (HAZ).
The article aims at fulfilling those deficiencies by identifying some of the influencing factors and by discussing their importance.
The laboratories who apply the tests in real life situations should be familiar with specimens size effects and understand the significance of selecting certain specimens in place of others.
In the authors' words, this situation may cause results from different labs to be difficult to compare. The lack of appropriate specimen preparation guidelines and accepted data analysis methods may influence negatively the accuracy of measured toughness values. It is recommended that specimens thickness represent as much as possible that of materials used in service. Familiarity with the differences between alternative specimens can help in selecting the most representative geometry to replicate the expected loading conditions in service.
On another subject, of different aspects of testing, a Materials Characterization Primer, published at page 29 of the same magazine, reminds the specialized uses of sophisticated modern equipment capable, like the Electron probe X-Ray Microanalyzer, of providing local quantitative surface chemical analysis of metallographic specimens. Then Tensile Testing and its variations are reviewed, followed by Fatigue Testing and by Fracture Mechanics evaluation. Multiaxial Testing is then briefly described, designed to characterize material failures mechanisms under complex stressing conditions.
While specialized equipment for uncommon mechanical testing of components is not generally available in production laboratories charged with routine quality control, the understanding of special requirements and the availability of dedicated instrumentation where it is needed should be part of the store of knowledge of every technical professional.
Readers are invited to seek the above publication and to keep it handy for reference.
---
8 - Site Updating: Hot Pressure Welding (R), Hydrogen Embrittlement (R)
Here are the Pages of this Month that were revised and updated in our website: the first one deals with a process that is quite successful for those items for which it was primarily developed, especially bars, and possibly tubes.
Like other pressure or upset processes, it is based on a mechanism, the expulsion of excess material, that guarantees the absence of defects in the joints.
Being based on repetitive simple motions, it can also be made automatic and independent of human skill and attention.
The other page deals with complex phenomena, not completely explained, in need of constant attention to avoid the most dangerous developments.
Basic information and consistent discipline in applying the simple rules is sufficient, in general, to perform correct welding also in difficult situations.
Readers can browse the Site Map for finding main subject pages, the Welding Topics page for the titles of main PWL Articles, and the Welding Resources page for lists of Online Links to rich sources of knowledge.
Comments, questions and feedback are welcome. Use the Contact Us Form.
---
9 - Short Items
Do you know...
...that you can get system assist for underwater welding project?
Vision Systems.
...that US Faces Substantial Decline in the Dollar?
Industry Week.
...that you can explore welding software free of charge?
www.weldassistant.com
...that Finding, Nurturing Skilled Workers is the Key? Article.
...The "Smarter" Manufacturing Enterprise? Wired.
9.1 - Acid Steel is called that melted in a furnace with an acid bottom and lining and under a slag containing an excess of an acid substance such as silica.
9.2 - Bending represnts the straining of material, usually flat sheet or strip metal, by moving it around a straight axis lying in the neutral plane. Metal flow takes place within the plastic range of the metal, so that the bent part retains a permanent set after removal of the applied stress. The cross section of the bend inward from the neutral plane is in compression; the rest of the bend is in tension.
9.3 - Cold Shut is either of the following flaws. (1) A discontinuity that appears on the surface of cast metal as a result of two streams of liquid meeting and failing to unite. (2) A lap on the surface of a forging or billet that was closed without fusion during deformation. (3) Freezing of the top surface of an ingot before the mold is full.
9.4 - Flux Lines are used as a means of explaining the behavior of magnetic and other fields. Their concept is based on the pattern of lines produced when magnetic particles are sprinkled over a permanent magnet. Sometimes called magnetic lines of force.
9.5 - Gathering Stock is any operation whereby the cross section of a portion of the forging stock is increased beyond its original size.
9.6 - Hard Chromium is a layer of Chromium electrodeposited for engineering purposes (such as to increase the wear resistance of sliding metal surfaces) rather than as a decorative coating. It is usually applied directly to substrate and is customarily thicker (>1.2 mum, or 0.05 mil) than a decorative deposit, but not necessarily harder. Possibly becoming obsolete due to environmental concerns and of successful alternative processes.
---
10 - Explorations: beyond the Welder
Why we need to stop comparing every Big Science project to the Manhattan Project
SA1.
Do Electronic Cigarettes Really Help Smokers Quit?
SA2.
Are XPRIZEs the Future of Scientific Discovery and Exploration?
SA3.
Pay-as-You-Go Solar Energy Finds Success in Africa
SA4.
How to Stop the Illegal Wildlife Trade from Funding Terrorist Groups
SA5.
---
11 - Contributions: Laser Surface Heat Treatment and Modification

At page 45 of the last issue of AM&P already quoted above (Section 7), an interesting overview of modern uses of laser local heating application is introduced. It appears that different surface processing variants are used in practical industrial uses, to improve interface material properties and enhance surface performance.
Modern simulation and computational methodologies help in optimizing procedures and test alternative parameter values before actual testing. Altering surface chemistry or metallurgy, adding layers of strategic materials without losing the base metal physical characteristics are some of the most common applications.
As compared to alternative surface processing, Laser based Surface Modification is more beneficial because it does not require high in- process vacuum, can produce complex structures, and can fabricate thick coatings (>50 µm).
Therefore, laser surface alloying, laser cladding, and composite coating based on Laser technology provide a new path, relatively simple and economic, to enhance surface resistance to corrosion, abrasion, and wear.
What could be the take home lesson? If some of your components, subjected to severe service conditions, still have shorter than acceptable life, why not exploring the possibility that some form of LSM (Laser Surface Modification) might be suitable for solving successfully the problem at hand?
The development work could be assigned to people, familiar with LSM techniques, like the authors of the quoted article. Interested Readers are urged to seek and study the recommended reference.



[From LASER SURFACE HEAT TREATMENT AND MODIFICATION
AM&P - Nov. Dec. 2013 - pg.45]
---
12 - Testimonials

From: Dan Hayman
To: welding-advisers.com Date: 01 Nov 2013, 10:37:06 AM Subject: RE: PWL#123
Cool.
[...]
Thanks & all my love,
Danny
---
On Sun Nov 17 01:30:33 2013, the following results were submitted from the "Form 5" on welding-advisers.com:
Name: Devine Ezewuiro
E-Mail Address: removed for security
Country: Nigeria
Organization: Oando
Your Task: welder
Details: Good day beautiful people [...]
Your professional advice will be greatly appreciated.
Thank you
---
13 - Correspondence: a few Comments, Crowd-thinking?
I would like to challenge our readers to dedicate a few moments of their intellectual life to thinking .
What could be done to enrich readers experience with a rewarding exercise?
I would like that the collective stirrup would produce, with a few iterations, some practical ideas likely to contribute to further individual growth in the way of gaining knowledge and understanding in subjects relevant to professional advancement.
While possibly most of us are too much distracted by their daily chores to free their minds for some creative thinking, we should be aware that big changes are taking place in Engineering and Technology.
When we wake up we risk to find our professional world difficult to make sense of.
Your collective wisdom could come up with practical ideas. Come up with your proposals!...
---
14.1 - U.S./European Welding Standards
January 26–28, 2014, AWS Headquarters, Miami, FL
http://www.aws.org/conferences/2014weldstandards.html
14.2 - International Symposium on Advances in Resistance Welding
April 28-30, 2014, Atlanta, Ga. www.aws.org/rwma
14.3 - AERODEF Manufacturing.
Feb. 25–27. Long Beach Convention Center, Long Beach, Calif.
The Society of Manufacturing Engineers.
www.aerodefevent.com
14.4 - FABTECH® Canada.
March 18–20. Toronto Congress Centre, Toronto, Ont., Canada.
www.fabtechcanada.com
---

Click on the following image to watch the SBI! TV Show!

BUILT BY:


Click on this Logo NOW!

Copyright (©) 2013, by Elia E. Levi and
www.welding-advisers.com
All Rights Reserved.
See you next time...
---