We hope you will find this Letter interesting and useful.
Let us know what you think of it.


Welding Problem? Solve it! with
Help from a Welding Professional
Contact Us.
PWL#134
Practical Welding Letter No. 134
October 2014

Submerged Arc Welding Optimization, Buttering on High Carbon-Equivalent Steel Pipes, New AWS Specification on Structural Aluminum Welding, Developments in new Steels for High Temperature Carburizing with improved resistance to grain growth, Remotely Operated Underwater Friction Welding Technology to perform maintenance and retrofit operations on offshore oil and gas structures in deep ocean installations in the South China Sea, How to solve Welding Problems, Mid Month Bulletin with links to online resources on process optimization and much more...
---
October 2014 - Practical Welding Letter - Issue No.134
---
Important Notice
The Mid September 2014 Issue of Practical Welding Letter, Bulletin 100, introducing online Resources on Welding Optimization was not distributed by e-mail but is available at Bulletin 100 and from the Welding Resources Page.
DON'T USE REPLY to send your messages! Use the Contact Us form instead.

This publication brings to the readers practical answers to welding problems in an informal setting designed to be helpful and informative. We actively seek feedback to make it ever more useful and up to date. We encourage you to comment and to contribute your experience, if you think it may be useful to your fellow readers.
Click on Contact Us and fill in the Form.
You are urged to pass-along this publication to your friends, if you like it, and if you think it may help them. If you received this from a friend and if you like what you read, please Subscribe free of charge and you will also receive a bonus book on Practical HARDNESS TESTING Made Simple.

The addresses reported hereafter were live and correct at the time of their publication. There is no guarantee that they will always be so, because they are administered by the sources themselves and are under their control.
Note: References to articles or other documents are given here in
one of two forms. If the links are "live" (usually underlined or otherwise highlighted) they are operated with a click of the mouse.
If they are URL's (Uniform Resource Locator), which is the analogue of an address, they begin with "http://..." or "www.". These are not live and must be copied and pasted entirely into the browser (after having been selected with the mouse or otherwise). If they are long they may be displayed in two or more lines. In that case one has to care that the URL be copied completely in a single line without any space, and Enter.
If the information is important to you as we hope, you may save the selected pages in a suitable folder on your Computer for easy reference. You are welcome to forward this page to those of your friends who may profit of this information.
(Sponsored Links)
---
TABLE of CONTENTS
1 - Introduction
2 - Article - Submerged Arc Welding Optimization
3 - How to do it well: Buttering on High Carbon-Equivalent
4 - Filler Metal New Issue of AWS D1.2/D1.2M:2014
- Structural Welding Code - Aluminum
5 - Online Press: recent Welding related Articles
6 - Terms and Definitions Reminder
7 - Article: Developments in Steels for High Temperature Carburizing
8 - Site Updating: Welding Problems (NEW), Bulletin_100 (NEW)
9 - Short Items
10 - Explorations: beyond the Welder
11 - Contributions: Remotely Operated Underwater Friction Welding Technology
12 - Testimonials
13 - Correspondence: a few Comments
14 - Bulletin Board
---
1 - Introduction

Oops... Sorry! I made a mistake... In the last issue I remarked that this Practical Welding Letter, is entering its eleventh year of publication. Not true...
In fact we are now at the beginning of the twelfth year. I have since corrected the page that can be now downloaded, but I have no control on the saved copies in readers' folders.
OK. We are proud to start this 134th issue of Practical Welding Letter with a very informative article by my friend and mentor Naddir M. Patel who graciously dedicated a substantial effort to provide practical advice to readers in search of ways to improve their Submerged Arc Welding operations.
We hope that interested readers jump on the opportunity to gain knowledge and understanding, by applying the recommendations detailed hereafter.
Then we report on a known technique which could be applied to a not so known application, to solve annoying problems of cracking in certain types of steel welding.
Readers currently working on aluminum should be informed on a new revised edition of a pertinent AWS Specification, the Structural Welding Code - Aluminum. The last AWS Catalogue does not list it, yet.
Several improvements and additions were included from the previous issue. Readers practicing aluminum welding should be interested in checking out the differences.
Special steels are continuously developed for improving the conditions for their applications. In this case it is reported on ways to limit grain growth when submitting steels to high temperature carburizing, a process designed to save time and energy while processing these steels.
The technological improvements reported next are not going to impact on the activities of the regular welding shop. But informed professionals should be aware of the progress achieved while friction welding from a distance for maintenance and repair in deep ocean waters.
A new Page of this Month should provide a few useful hints when facing sudden problems during current production with known materials and processes.
While a systematic search is recommended in the form of a complete metallurgical investigation, there are certainly a few simple checks that may help in identifying overlooked hindrances.
The new Mid Month Bulletin provides links to online resources dealing with process optimization. Readers may find there useful indications.
It is probably superfluous to remark that the other columns are found at their usual place.
If you wish that a special subject of which you are curious be dealt with in this publication, please ask, by filling in the Contact Us Form.
For getting the answers you may be looking for on certain subjects, the search window on most pages of the Welding Advisers website may be a good place to start from. See www.welding-advisers.com
The Site Map may help too as well as the Index Welding Page.
Please use the Contact Us form for your queries, comments and feedback.
---
2 - Article -
Submerged Arc Welding Optimization
by Naddir M. Patel
http://www.rayatechnicalservices.com/


Note from the publisher:
The advantages of using increased electrode extension relative to the usual practice, are briefly exposed in an article on
Submerged Arc Welding Electrode Extension Nozzles
published (11) in Issue 88 of Practical Welding Letter for December 2010,
to be found at PWL#088.
One of the best explanations is reported there from page 281 of the Welding Handbook Ninth Edition, Volume 2, in Chapter 6 dealing with Submerged Arc Welding (SAW).
A short note on Ceramic Extension Nozzle Tips was published (2) in Issue 119 of Practical Welding Letter for July 2013.
Click on PWL#119 to see it.
From the same Author indicated above read the Article
SAW Fluxes, a Primer, in two parts.
Part 1 in PWL#126.
Part 2 in PWL#127.
The purpose of this Article is to show, to readers struggling with SAW applications, that it is possible to gain substantial productivity improvements in SAW without embarking in expensive investments.
The Author derives his knowledge, besides from thorough theoretical studies, also from long time experience with practical optimization efforts as shown further down.
Although this publication refrains generally from recommending specific commercial products, in this case an exception is taken: the TipMate™ electrode extension nozzles, described thoroughly hereafter, are heartily recommended for the documented productivity gains they provide to users at nominal cost.
For full disclosure it should be added that the Author gets, for any new business he procures, a modest commission from the nozzles manufacturer.
This fact does not involve any conflict of interests, as the implementation of the suggested nozzles use works completely to the benefit of the shop adopting it.
To the best of our knowledge no competitor can offer comparable alternative devices.
There are numerous ways to improve welding productivity.
The bottom line harks back to basic physics: how fast an electrode can be melted into the weld groove efficiently.
Efficiency is evaluated by taking into account quality issues, meaning that only a minimal amount of repair or rework is made necessary.
The optimal approach is ROI (Return of Investment) based.
The productivity increase must be compared with the cost associated with the change, namely the amount of capital investment required and the corresponding saving generated in operational costs.
Let us briefly examine alternative means of improving productivity:
(The following text was contributed by Randall Davis of TipMate™ in answer to a request of clarifications from the Author)
Welding with increased Electrode Extension (EE) was quite popular until twin arc came out sometime in the 1970's.
The head for controlling increased EE proved to be too bulky and too large for many applications, as has the Lincoln Twin Arc® head.
I (Randy) solved that problem, the jamming of preheated wire and wire wandering, by originally perfecting a ceramic nozzle as a guide that simply screws on to a threaded contact tip.
Standard Lincoln K231 concentric flux cones will fit neatly over TipMate™ nozzles.
Increases in EE are most appropriate for single wire Submerged Arc welds grooves and for fillet welds typically within the following parameter limitations:
Table I
Wire Size
Current
Electrode Extension
Deposition Rate
Up to
inches
mm
amps max.
inches
lbs/hr
kg/hr
5/64
2.0
400
1-1/2
15
6.8
3/32
2.4
500
2-1/4*
21
9.5
1/8
3.2
600
2-1/2*
22.5
10.2
5/32
4.0
750
2-3/4
30
13.6
Note: *Higher amperages are possible with shorter nozzles.
More recently I (Randy) have developed a copper/high tech ceramic hybrid extension that gives superior durability and will accommodate maximum amperage. Patent is pending.
Whether you want greater deposition rate, less distortion, minimal burn thru of root passes, better control of maximum interpass, less flux usage, higher travel speed or narrower heat affected zones; the use of TipMate™ Nozzles to control increased EE is a simple and inexpensive solution, as compared to twin wire and, in some cases, tandem wire welding.
TipMate™ Nozzles are also applicable for tandem arc applications, cored wire & high alloy applications with the appropriate customizing of the length of the extension.
SAW Process Variations:
If you perform ASME IX single wire DC+ Submerged Arc welding with a single power source and want to increase productivity, you have many choices inclusive of those given below.
The approach in each case is to increase process efficiency. Each seeks to take greater advantage of a measure of power to melt more wire while losing less heat to base metal.
Increased Electrode Extension is the only method that increases efficiency of the SAW process in a simple and inexpensive way. It is by far the most operator-friendly.
A. - Twin wire (e.g. Lincoln Twin Arc®)
This uses a special, large barreled torch that cannot access narrow grooves.
A new power source may be required (usually requires 1000 amperes minimum).
Procedure re-qualification will be required for impact tested fabrication per ASME IX.
B. - AC with or without control of the waveform (e.g. Lincoln Power Wave®)
This requires purchase of a special, expensive power source.
Procedure re-qualification will be required for impact tested fabrication per ASME IX.
A change of flux may be required.
C. - Cold wire addition (e.g. ESAB ICE®)
This uses a special, large barreled torch that cannot access narrow grooves.
This likely will require purchase (or lease) of a special, expensive power source.
Procedure re-qualification will be required for impact tested fabrication per ASME IX.
D. - Increased Electrode Extension with TipMate™ System Nozzles
Simply thread the nozzle onto a modified contact tip.
The existing power source can be used.
The existing flux can be used.
The existing wire, whether hard or cored, can be used.
TipMate™ nozzles can access relatively narrow grooves.
Procedures need not be re-qualified per ASME IX, even for impact tested fabrication.
The most popular process for high fill rates in positioned welds are the various forms of Submerged Arc Welding.
Conventional single wire welding gives 4 – 26 lbs/hr deposit rates (from 5/64" wire @ 200 amperes thru 5/32" wire @ 900 amperes). Twin wire and two wire tandem arc can put you up to 60 lbs/hr.
However, such high deposition rate processes are not versatile in a typical job shop where welds are constantly changing from 8" thru 42" diameter and from 1/4" thru 5" wall thickness.
The use of increased Electrode Extension with single wire welding allows that process to compete with the higher deposit rate processes while maintaining process flexibility and limiting the required capital expenditure.
Single wire Submerged Arc Welding with 3/32" wire and 2-1/4" Electrode extension can be used on the full range of thicknesses and diameters mentioned above while yielding a deposit rate up to about 22 lbs/hr.
Large diameter/heavy walled welds can be made with 5/32" single wire up to 35 lbs/hr.
Moreover, it is very easy to adapt single wire SAW with increased Electrode Extension to narrower grooves for greater production efficiencies.
The economic alternative of deploying the TipMate™ electrode extension nozzles technology should be examined seriously as it has the potential of increasing productivity at a negligible cost.
• The Generation I electrode extension nozzle is a unitary ceramic version optimized for the 3/32" (2.4mm) wire size.
The standard extension allows a nominal 2-1/4" electrode extension for currents upto 550A, which is common for most shops.
This Generation I extension nozzle, including its adapter, is priced at $100 USD.
It increases weld metal deposition by 20%-45% at the same current level, meaning that, depending on the salary paid to the welder, it pays for itself in as little as two 8 hour shifts.
As a small portion of the heat is directed away from the weld zone and towards pre-heating the wire, the problem of burn through is addressed and more importantly the overall heat input into the weld is reduced, allowing for ease of use in Stainless Steels and other alloys.
Drawbacks include a life cycle very dependent on the technique and house-keeping ability of the welder. Dragging the wire while the power is turned off can break the ceramic.
• The Generation II electrode extension nozzle is a Copper/Silicon Nitride bearing hybrid that gives superior durability.
These, through numerous user tests, allow the use of optimal electrode extension, across a range of electrode sizes to operate under the maximum currents applicable for that size.
The premium engineering ceramic, made with materials used in high performance aerospace engines and steel-alloy refining furnace operations, is virtually unbreakable, can handle thermal shock and is ideally suited for rough and ready shop floor use.
Priced at $450 for the 3/32" wire (2-1/4" EE) and 1/8" wire (3" EE) and $990 for the 5/32" wire (3-3/4" EE) this improves SAW productivity using the same welding parameters as the welder was using previously.
As electrode extension is a non-essential variable, the WPSs do not need to be re-qualified.
The following case studies provide a glimpse of the SAW efficiency improvements possible.

Small Valve Shop
The Workstation had two heads for making two welds simultaneously on a valve.
Welding was at a nominal 420 - 450 amperes.
One head was operated at conventional Electrode Extension (EE) of about 3/4" on 3/32" wire.
The other used Generation I ceramic extension nozzle, with nominal 2-1/4" EE.
Grooves were welded in a practice piece to record relative times.
After welding began, we measured and found the TipMate™ groove to be wider (1-3/8" instead of 1-1/8") and therefore also deeper.
However, the TipMate™ joint still completed 30% faster even with it being larger.
The purpose of the comparison was to immediately show the advantage of increased EE! There was reduction in passes, but doubtful there was a significant reduction in relief of thermal stresses as the parts were internally water cooled.

Large Valve Shop
Essentially the same scenario as above at one workstation.
However, welding was on a non-critical production part.
This way they could record the increase in meter voltage required to see whether requalification or impact tested fab might be required due to welding outside the qualified voltage (heat input) range.
The increased voltage drop across the extension robs arc voltage, therefore requiring an increase in meter voltage.
The percentage increase in speed was comparable to above.
At another workstation we welded where two hemispheres are put together for the valves.
We increased wire feed speed from 110 ipm to 150 ipm at the same amperage (about 400) and were able to maintain voltage.
Even though arc voltage was reduced, the weld appearance was acceptable.
Heavy-Walled Carbon Steel Fabricator - Houston, Texas
Existing procedure is with 5/32" Lincoln LA-690 metal cored wire at 590 amperes maximum and 1-1/4" electrode extension due to heat input limitation for impact testing.
At first we were conservative considering that it was cored wire and only increased EE from the standard 1-1/4" to 2-1/4".
However, we saw only 14% increase in burn off rate.
We changed to the 3-3/4" (90 mm) EE and realized a 32% increase as compared to the conventional extension.
Then, we increased amperage to just 635 (at which the effective heat input with increase EE should be no more than original).
At 635 and 90 mm EE, we realized a 55% increase over the conventional extension.
Another Fabricator from Chicago, Illinois
TipMate™ has replaced twin 3/32" wires running at 600 amperes with TipMate™ Generation I and II.
For their horizontal subarc on a 100 foot diameter nuclear related storage tank, the TipMate™ Generation I, operating at 400 amperes, is being used with one 3/32" wire with 2-1/4" EE.
Although deposition rate has only been increased by about 1 pound per hour, the decrease in amperage allows a slower travel speed and faster stacking of beads to cut the number of passes around the tank from 29 to 15.
Keep in mind that the amount of metal melted at a given heat input remains the same and the weld does not necessarily become wider.
It is the relative dilution of base metal and filler metal that changes!
No way to be done conventional – too much heat input to slow down or increase wire feed/amperage!

This is quite significant for this type of situation.

Readers are advised that a special Issue of the Mid Month Bulletin was devoted to Resources on Submerged Arc Welding Electrode Extension.
Click on Bulletin 94 to see it.
NOTES
All Data are approximate & dependent upon actual Electrode Extension & Wire/Flux combination
* - The AC wave form system increases deposition rate by rapidly and alternately using both -ve and +ve within a single loop.
The electrode extension remains at the default position set by the welder, like in standard DC welding.
Thus the welder can manipulate the stick-out from 0.25" to 1".
This is why in the "waveform" column, no EE has been advised.
At 500A the Generation I matches the productivity of the powerwave.
All at a capital cost of 100$ versus the >$50,000 for the powerwave.
Twin wire is where 2 wires of the same diameter are fed into the puddle through the same assembly.
Tandem wire is 3 or more wires (upto 5 sometimes) but placed in a line, one after the other.
In tandem thus the HAZ remains hot for a longer time, refines the weld and fills up grooves in one pass.
TipMate™ Systems
www.tipmateusa.com
Note: - PWA wishes to thank the Author, Naddir M. Patel, a friend and longtime contributor to this publication, and Mr. Randall Davis of TipMate™, who kindly added his comments to this page.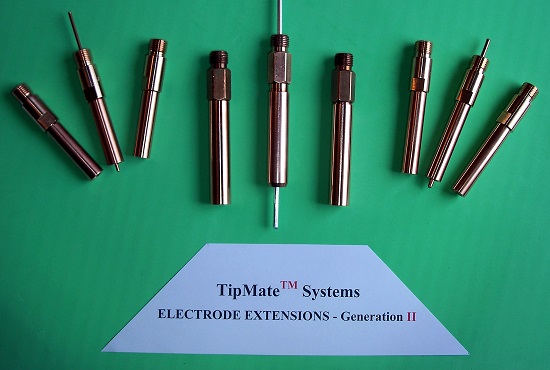 Ceramic Electrode Extension Tips
---
3 - How to do it well: Buttering on High Carbon-Equivalent
As reported (6) in Practical Welding Letter No. 15 for November 2004, (See PWL#015), Buttering is a welding procedure whereby a deposit of a different metal or alloy is laid down on a base metal to provide a metallurgical compatible material for the completion of welding of dissimilar alloys.
While this technique is widely adopted for welding stainless to mild steel (see Stainless to Mild Steel Welding in Weld-FAQ), the article published on page 48 in the September 2014 Issue of the Welding Journal points to a less common procedure.
The reported study applied it to high carbon-equivalent steels: by buttering with a layer of low-hydrogen (and low carbon) weld metal matching the base material, and then grinding its surface before commencing the in-service weld, the subsequent weld on pipe branches will result of much lower hardness and with reduced crack susceptibility.
By using half overlapping beads, the layer undergoes self-tempering while being deposited.
This technique permits a more substantial wall thickness that, during the branch weld, can greatly reduce the likelihood of melt through during the root pass.
Based on test results the article concludes that, when buttering is used, hardness values obtained in the branch welds are acceptable for nonsour service.
On the contrary, when buttering is not used, hardness values result unacceptable for the same service per requirements of Specification CSA Z662-2011, Oil and Gas Pipeline Systems.
Interested Readers are invited to read the original article pointed out above.
---
4 - Filler Metal - New Issue of AWS D1.2/D1.2M:2014 - Structural Welding Code - Aluminum
This year, a new, sixth edition of the document described in the title above, was released.
It was the purpose of the D1.2 subcommittee members to make revisions relevant to today's needs, and their intent to improve the code's clarity. It is not yet included in the last available issue of the AWS Publications Catalog.
We learn these and other informative details on the voluntary committee's members work in the Editorial by Thom Burns, Chair of the AWS D1G Subcommittee on Aluminum Structures, titled How AWS Codes Reflect Changes in Technology, published in the September 2014 issue of the Welding Journal at page 6.
From the Foreword of the Preview of this Code (see further down this note) we report a few essential remarks.
This Code provides the requirements for aluminum weld design, qualification of welding procedures and welders, fabrication, erection and inspection as a set of rules and regulations for the welding of structural aluminum.
In addition, the Code addresses requirements for fabricators using gas metal arc welding, gas tungsten arc welding, stud welding and, new for 2014, friction stir welding.
The welding requirements are applicable to any type of welded aluminum alloy structure.
This code is appropriate for use in fabrication of supporting structures.
It is not intended to supplant codes developed for use in specialized fabrications such as the ASME Boiler and Pressure Vessel Code, aerospace codes, or military codes.
Recommended joint details have been prepared for numerous complete joint penetration groove welded joints.
The Structural Welding Code—Aluminum does not allow for prequalified welding procedures.
This is mainly because of the many and varied possible welding conditions that can be obtained with semiautomatic welding variables, most often used with aluminum, and the wide range of both heat treatable and non heat-treatable alloys that may be welded under this code.
Therefore, all of the joint details and the welding procedures used with this code shall be individually qualified and included in the Welding Procedure Specification (WPS).
This code does not concern itself with such design considerations as the arrangements of parts, loading, and the computation of stresses for proportioning the load-carrying members of a structure and their connection.
Such considerations, it is assumed, are covered elsewhere in a general code or specification, such as the Specification for Aluminum Structures (the Aluminum Association).
The Aluminum Code can be purchased from:
wherefrom also a Preview of 16 pages can be downloaded at no cost.
---
5 - Online Press: recent Welding related Articles
NASA Unveils World's Largest Welder to Build World's Most Powerful Rocket
Universe.
Medical devices and battery welding
Miyachi.
Welding stir-up
NEI.
Diode Lasers for Plastic Welding Applications
Novuslight.
Forming and Joining of Lightweight and Multi-material Systems
ASME.
---
6 - Terms and Definitions Reminder
Included angle is a nonstandard term if used in place of groove angle.
Laser beam welding and cutting safe practices per ANSI Z136.1 must be followed to protect personnel from hazards.
Metal Cored Electrode is a composite tubular filler metal electrode made of a metal sheath and a core of various powdered materials.
Oxypropane cutting is a variation of oxyfuel gas cutting process that uses propane as the fuel gas.
Platen spacing is the distance between opposing platens in a resistance welding machine for producing projection welds.
Qualification procedure, is the demonstration that welds made by a specific procedure meet prescribed standards.
Reaction flux, soldering denotes a flux composition in which one or more ingredients react with the base metal upon heating to deposit one or more metals.
Semiautomatic welding is a manual welding process where equipment has automatic control of one or more of the welding conditions.
---
7 - Article: Developments in Steels for High Temperature Carburizing
An Article published in the September 2014 issue of HTPro, a periodical issued by the ASM Heat Treating Society, for September 2014 (Volume 2 - Issue 3), reviews the state of the art.
The above insert is included in Advanced Materials and Processes (AM&P), an ASM International publication, at page 53.
The problem of coarsening of austenitic grain size in high temperature heat treatments has a direct bearing on properties, as large grain size impairs ductility (impact properties) and fatigue resistance, together with excessive distortion.
The increased use of vacuum carburizing furnaces at higher carburizing temperature in commercial heat treating operations allows shortened processing time, with remarkable productivity and energy savings.
Raising the carburizing temperature is effective especially for large carburized case depth components.
Thus, increasing carburizing temperature from 950° to 1050°C (1740° to 1920°F) potentially can shorten carburizing time by up to 60%.
However, when carburized above 950°C, many current commercial steels show excessive austenite grain size coarsening.
Research organizations worldwide are exploring ways to improve coarsening resistance of these steels by incorporating submicron precipitates, nitrides or carbides with great thermal stability.
Precipitates increase the volume fraction of particles available to retard austenite grain boundary migration and resist precipitate coarsening.
Above 950°C however, submicron aluminum nitride (AlN) precipitates begin to coarsen and dissolve, allowing austenite grain growth.
Early research focused on titanium nitride (TiN) that showed that titanium additions to steel can slow coarsening. Unfortunately even small titanium additions often lead to large cuboidal TiN or Ti(N,C) inclusions that degrade both toughness and fatigue resistance.
Research indicates that supplementing titanium and niobium microalloy additions with molybdenum can be particularly attractive for improving austenite grain coarsening resistance.
Several factors, including the small volume required, seem to limit the commercialization efforts. Nevertheless progress is achieved and other steels, besides those for carburizing, may benefit from mastering of grain size control at elevated temperatures.
Interested readers are urged to seek the original article pointed at above, at page 7 of HTPro, September 2014, that can be downloaded from the following link: ASM
---
8 - Site Updating: Welding Problems (NEW), Bulletin_100 (NEW)
The Pages of this Month deal with two unrelated issues.
Welding problems can occur at any time.
Informed personnel are usually able to point out the reasons for sudden faulty results and to correct the causes producing such failures.
Occasionally however the real cause is not easily found.
The new website page on Welding Problems intends to suggest how to look in a systematic way for the probable culprit.
It also calls for a dispassionate examination of the situation. There are many reasons suggesting to all involved why it is important to solve the problem internally in the shop.
In certain cases however, the cause may be so hidden that a stubborn decision to do all efforts in-house, may be a costly resort.
On the contrary, a suitably qualified external expert, using some special tools for his/her metallurgical investigation, may be able to start again successful production in the shortest time and at minimum cost.
Unfortunately ego problems and unrelated justifications hinder sometimes the application of this logical thinking.
The other page, the Mid September 2014 Bulletin 100 providing links to online Resources on Welding Optimization.
Here again the decision to spend effort in order to improve productivity and reduce waste and costs is of management competence.
The welding engineer, if such a function still exists in the organization, is best qualified to introduce the reasons why such effort is needed and profitable.
The Resources of the said Bulletin may help in finding compelling reasons for the decision to implement such an effort.
Readers are invited to check the many facets of welding exposed in this website. The Site Map may be a good place to start from, for finding critical information.
You can always Contact Us if you feel that we could offer some help.
---
9 - Short Items
9.1 - Basic Refractories are those whose major constituent is lime, magnesia, or both, and which may react chemically with acid refractories, acid slags, or acid fluxes at high temperatures. Basic refractories are used for furnace linings.
9.2 - Case is, in heat treating, that portion of a ferrous alloy, extending inward from the surface, whose composition has been altered during case hardening. Typically considered to be the portion of an alloy whose composition has been measurably altered from the original, that appears light when etched, or that has a higher hardness value than the core.
9.3 - Decohesive Rupture is a brittle fracture that exhibits little or no bulk plastic deformation and does not occur by dimple rupture, cleavage, or fatigue. This type of fracture is generally the result of a reactive environment or a unique microstructure and is associated almost exclusively with rupture along grain boundaries.
9.4 - Electrochemical Potential is that of an electrode in an electrolyte relative to a reference electrode measured under open circuit conditions.
9.5 - Ferromagnetism is a property exhibited by certain metals, alloys, and compounds of the transition (iron group), rare-earth, and actinide elements in which, below a certain temperature termed the Curie temperature, the atomic magnetic moments tend to line up in a common direction. Ferromagnetism is characterized by the strong attraction of one magnetized body for another.
9.6 - Hypereutectic Alloy is, in an alloy system exhibiting a eutectic, any alloy whose composition has an excess of alloying element compared with the eutectic composition and whose equilibrium microstructure contains some eutectic structure.
---
10 - Explorations: beyond the Welder
Can Ebola "Bombs" Be Made for Warfare?
SA1
Teen Wins Big for His Sock Invention
SA2
Tornado Season Peak Now Occurs Earlier in Spring
SA3
A New Book Examines What Laughter Was All about in Ancient Rome
SA4
A Computer Scientist Tells Mathematicians How To Write Proofs
SA5
---
11 - Contributions: Remotely Operated Underwater Friction Welding Technology
An Article published in the September 2014 issue of the Welding Journal at page 54 sheds light on tests and practice used to study and improve Underwater Friction Welding Technology operated from a distance.
It reports on an effort carried out for a number of years, intended to provide the means and the experience to perform maintenance and retrofit operations on offshore oil and gas underwater structures in deep ocean installations in the South China Sea.
The underwater friction welding system is designed to replace human divers for the operation of welding in place of new sacrificial anodes, thus greatly reducing construction costs and improving production efficiency.
The welding system consists of an underwater welding device and a high-powered remotely operated vehicle (ROV) platform. The ROV is widely used in ocean engineering. In this application the ROV carries into water the hydraulic control module and electrical control module, but the assembly composed of the sacrificial anode, welding head, and welding fixture was too heavy for the ROV and had to be lifted separately into the water.
The welding device is composed of the welding head, welding fixture, hydraulic control module, hydraulic underwater hot stab module, electronic control module, and human–machine interface.
The article describes in some detail the design of the underwater friction welding system based on the ROW platform. In particular, the operational control signals are converted into light signals that are transmitted along the optical fiber to assure reliability.
The experimental phase of the development permitted to optimize the operating parameters like the head revolution of 3500-4000 rev/min and the axial feed speed of 20-30 mm/min in the water. Tests confirmed that the strength of the welded studs met the requirements of the project.
Due to the proven cost advantage, the development illustrated by the reported article indicates probably a future trend, worthy to keep track of, towards more complicated repair and maintenance initiatives, especially for deep water installations.
Interested readers are urged to seek all the details in the original article pointed at above.
Underwater friction welding system based on the ROV platform
---
12 - Testimonials
02 Sep 2014, 09:34:04 AM
Name: Evan Vokes
E-Mail Address: removed for security
Canada
Thanks for not quitting [...]
I still appreciate seeing your newsletter. [...]
Thank you
Evan Vokes
---
Sep 10 16:26:45 2014
Name: Hank M
E-Mail Address: removed for security
Country: United States
[...]
Any help would be great.
Thanks in advance.

Hank M
---
13 - Correspondence: a few Comments
While helping a kind reader with his unusual request that Welding Advisers provide a vehicle for conveying information on goods and services likely to help in finding how to fill necessary needs, it dawned on to me that possibly other readers too might wish to explore the possibility of advertising their wares on our Website.
Readers are invited to inquire on how could we give them access to this platform offering updated information on welding. Please use the Contact Us Form.
---
14 - Bulletin Board
14.1 - MS&T 14 - Materials Science & Technology 2014
October 12-16, 2014 - David L. Lawrence Convention Center - Pittsburgh, PA, USA
www.matscitech.org
14.2 - Sheet Metal Welding Conference XVI
Oct. 22–24. Schoolcraft College, Livonia, Mich.
www.awsdetroit.org
14.3 - ASNT Annual Conference 2014
Oct. 27–30. Charleston Convention Center, Charleston, S.C.
American Society for Nondestructive Testing
www.asnt.org
14.4 - FABTECH 2014
Nov. 11–13. Georgia World Congress Center, Atlanta, Ga.
www.fabtechexpo.com
---
SBI! E-Business - Building An Online Business
Click on the following image to watch the SBI! TV Show!

Watch - The Video:

and also

BUILT BY:

Click on this Logo NOW!
Copyright (©) 2014, by Elia E. Levi and
www.welding-advisers.com
All Rights Reserved
See you next time...
---