Welding-applications
how to put Theory to Practice
Note: To view Google Ads, Pls.
Right Click and
Open in a New Window.
Welding-applications  are extensive in scope and comprehensive in their widely different categories.
In a short page only a minor fraction of types of fabrications involving Welding could be covered. 
The welding process selected for any job must be compatible with the materials in actual use.
The Welding applications to be described, grouped per material, would easily reach a considerable amount of detailed information.
This is difficult to assemble in a document and not practical to search.
One of the best available expositions of Welding-applications is found in Volume 4 of the AWS Welding Handbook, ninth edition.
This volume deals with a number of steels for very different uses and service conditions.
Carbon and Low-Alloy Steels, High-Alloy Steels, Coated Steels, Tool and Die Steels, Stainless and Heat-Resistant Steels, Clad and Dissimilar Steels, Surfacing Materials and Cast Irons are the materials covered in the different Chapters.
Volume 4 dedicates two further Chapters to Maintenance and Repair Welding and to Underwater Welding and Cutting.
WHB-4.9 Welding Handbook Volume 4
- Materials and Applications Part 1
From the link  AWS-WHB, besides ordering the above Volume 4, also a 13 page Preview is downloadable.
Furthermore, the electronic versions of each one of the 10 Chapters can be purchased separately.
Volume 5 of this edition, covering Welding-applications for most of the remaining metallic materials, is not yet available but some information, albeit not updated, can be obtained from the same two volumes of the previous edition.
Note: The above information is now obsolete: look for
https://www.aws.org/publications/weldinghandbook

Welding-applications Progress is driven by Productivity Gains
Note: To view Google Ads, Please
Right Click and
Open in a New Window.
---
Progress in Welding-applications techniques leads to stricter requirements for materials composition and properties that in turn influence finer parameter tuning for the processes.
Most developments are driven by productivity gain opportunities.
Typical is the new practice, introduced in large shipyards, to weld long panel joints in flat position by automatic hybrid (laser + Gas Metal Arc) Welding, obtaining full thickness penetration while welding from one side only.
By applying this technique one disposes of the costly handling and overturning of awkward bodies, just for the purpose of welding from the other side, in order to complete the weld.
Every Welding-application specifying a definite material has it own requirements, dictating the process and the technique to be used for satisfying quality needs within a reasonable budget.
In a critical review the first priority will usually be to find if an automatic or robotic implementation might assure maximum productivity at the least cost.
To be always alert on new solutions becoming available, the responsible professionals in charge of selecting the ways and means necessary to realize the job, should be familiar with the current state of the welding art.
A capable technologist should be able to recognize minor detail changes in design, capable to streamline the flow of production, and obtain the designer's approval to those design modifications.
Optimizing the process for improving productivity should be the next task to which one should dedicate all the attention required.
Welding-applications Operations running for a long time with somewhat acceptable results may conceal wide waste and unreported rework.
A thorough investigation of such activities and simply recording the actual materials and worktime involved may point to obvious malpractice easy to correct.
However, a recent (2002) AWS - EWI Study of US Industry at large showed that, irrespective of Welding-application, the majority of the companies involved in welding "have not studied, and have only a minimal understanding of, the economics associated with the use of welding-related processes".
There is probably a diffused sentiment in the industry that welding is a complex activity and that it is too difficult to try to master the basics for controlling its productivity within the firm.
Better to bury the head in the sand than being obliged to face uneasy contrasts with people in the organization having firm beliefs and preconceptions that everything is under control.
While Management may be wary of raising hell by investigating Welding-applications related productivity, it should be the most important duty of the welding engineer, if such a function still exists in the organization, to convince the boss that much can be gained in the bottom line by proper dealing with the issue.
All the information needed for performing welding productivity studies and for programming the needed  modifications is available in the book
TWM:2005 Total Welding Management, from the link: AWS-TWM

Total Welding Management is a formal system approach, developed by Jack R. Barckhoff, P.E., and adopted by the American Welding Society as an essential productivity tool.
Note: A link to this study will be found in Bulletin_101.

While facing a new Welding-application job, the shop will naturally try to assemble the required means and personnel to perform it with existing facilities, putting off to another time the analysis of its productivity.
Lacking a compulsory routine, required and enforced by management, it is very improbable that such a search will ever be conducted.
Only trained professionals and determined officers appointed to this duty will be able and willing to apply the Total Management principles called for above.
That will help putting every production line on sound and economic foundations, for the continuing profitableness of the organization.

Metal studies recently reached a new threshold, opening the way to new paths for exploration.
An Article on
New Materials for Future Demanding Applications
was published (7) in Issue 140 of Practical Welding Letter for April 2015.
Click on
PWL#140
for a short introduction to a whole new science expected to give in future new materials with amazing properties for demanding applications.
Readers are advised to check the Mid Month Bulletin 101 listing online Resources on Welding Productivity.
No endorsement or recommendation intended.
Watch the following Video on
Next Generation Robotic Welding Cell
https://www.youtube.com/watch?v=ar14v7P16zA
* * *
Any questions or comments or feedback? Write them down and send them to us by e-mail. Click on the Contact Us button in the NavBar at top left of every page.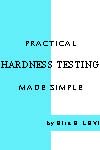 Let us remind you that, if you are interested, we offer a no cost subscription to our Practical Welding Letter and a bonus book in pdf format to be made available for download to your computer on the subject of
PRACTICAL HARDNESS TESTING MADE SIMPLE. Click on Subscription. To reach a Guide to the collection of the most important Articles from Past Issues of Practical Welding Letter, click on Welding Topics.


Note: To view Google Ads, Please
Right Click and
Open in a New Window.
---
Visit the
NEW
Page
on
Welding Problems
,
for looking into the causes of production hindrances.
Visit the NEW Page on Architectural Metalwork,
for reviewing a few momentuous icons of excellent fabrications.
Visit the NEW Page on Welding Overview, for a thorough
Introduction to Welding.
Visit also the NEW Page on Process-selection, for
Understanding the Selection procedure and
the NEW Page on Process-optimization
for improved productivity.
---
If you did not yet find what you need, why not typing your question in the following Search Box?

---
---
What's stopping YOU from trying SBI!?
Click on the following image to watch the SBI! TV Show!

BUILT BY:

Click on this Logo NOW!
Watch - The Video:
and also


---