Welding Advisers Update Blog
The purpose of this Blog page is to help our readers find more easily and quickly the specific information they seek.
This page is a new Distribution Vehicle, whereby readers, by subscribing to this feed, will be able to stay updated, whenever new content is published, without worrying about their own e-mail address being known and misused by others on the Web.
---
But if you wonder how could YOU build a Website for Pleasure and Profit do yourself a favor, have a look at the following video: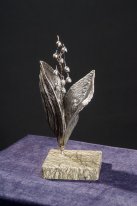 Lily of the Valley
[From http://www.welding-advisers.com/nature.html]
See hereafter the most recent additions and updates.
---
(Sponsored Links)
Sep 01, 2017
PracticalWeldingLetterNo169
PWL#169, Aerospace Applications of Additive Manufacturing, Selecting Wire Brushes for Weld Cleaning, Advances for Filler Metal fusing in Aluminum Robotic Welding, New 2017 Issue of ASME BPVC Section IX, A Study on argon/hydrogen blend as shielding gas for welding of deposit of corrosion resistant overlays (CROs), usually Inconel 625, on high-strength steels and much more...
Copyright (c) 2014, 2015, 2016, 2017 by
Elia E. Levi and www.welding-advisers.com
All Rights Reserved