Service-failures
study and understanding
SOLUTIONS with Effective, Powerful Advice
Service failures: Chance or Negligence?
Service-failures of welded bodies or constructions can be dangerous to people and property.
Especially if they occur without warning, they can block for long times industrial and civilian activities, with huge economic costs.

For these reasons, in all countries, suitable authorities were appointed to regulate all aspects of manufacturing and operation of whole classes of structures.
The reason is to prevent as much as possible the occurrence of dangerous disasters due to Service-failures.

Typical of this kind of documents are:
ASME Boiler and Pressure Vessel Code (BPVC)
(See Brochure, 29 pages)
ASME.
AASHTO/AWS D1.5M/D1.5:2010
BRIDGE WELDING CODE
AWS D1.5.
AWS D1.1/D1.1M:2010 (2ND PRINTING)
STRUCTURAL WELDING CODE-STEEL
AWS D1.1.
and many others.
Welding Problem? Solve it! with
Help from a Welding Professional
Contact Us.
Service failures can be the outcome of different occurrences.

Failures happening in service can be due to weld defects, corrosion attack, overheat, wear damage, fatigue cracks, overload burst, run out service conditions.

But they could also be due to faulty design, improper material selection, inadequate welding procedures, metallurgical breakdown.

The good news is that not all Service-failures can be imputed to the welder, or to the shop, or to the procedures.

The bad news is that those involved may have to prove it.

It is obvious that some of the Service failures could have their origin in the manufacturing operations. 
The purpose of standard Codes, as reminded above, is to establish minimum requirements intended to avoid as much as possible the occurrence of dangerous and costly failures.

It is important that all involved be conscious of their responsibilities, and be alert of the possible disastrous consequences resulting in Service-failures from sloppy or inadequate work.

It should be understood that in complex manufacturing work, many operations should follow exact procedures established by a long history of knowledge and experience.
Many conditions, if not kept rigidly as prescribed, might wander to unsafe quality and undermine the outcome characteristics.

To avoid substandard results, maximum attention and care has to be put in every phase of manufacturing, from start to finish.

Then inspection routines have to be applied correctly to expose defective accomplishments, so that they could be repaired before putting constructions to work.

In production, the inability of a test piece to stand up to mechanical requirements, or of a workpiece to meet nondestructive inspection demands, is a defective condition whose causes have to be determined and corrected by proper action.

Once the operations are screened step-by-step, determination of the causes for unacceptable results should be straightforward, and corrective action relatively easier to implement as all contributing elements are known.

Most of the problems incurred in a welding operation can often be ascribed to an oversight or to inadvertent corner cutting procedure performed with inadequate foreknowledge.

For a systematic search for the reasons for increased faulty production generating scrap, readers are pointed to our page
Welding Production Failures.

In case of difficulties, welding consultants can possibly help in locating the cause of production problems.

How are Service failures prevented? Each one of the above terms and conditions should be considered with caution, to find out where problems could be hidden in the specific case one is dealing with, and then suitable corrective action  should be taken.

In case the involved professionals are not smart enough to find the reasons beforehand, to eliminate the weak spots, failure can happen, taking everybody by surprise.

You know a success from a failure, don't you? The problem with Service-failures, as with most failures in general, is that they happen without warning, at the worst moment, in the most damaging way, with most costly repair procedures.

Not always though, sometimes there may be premonitory signs, if somebody is ready to detect them in time.

What can one learn from a Service-failure? By keen and determined application one can learn how to avoid it in the future, by improving on what is done.
It is imperative, even if not always easy, to get to the root cause.

An Article on
Asset Integrity Management
was published (11) in Issue 140 of Practical Welding Letter for April 2015.
Click on
PWL#140
to see it.
An Article on Example of a Failure Analysis was published (7) in Issue 147 of Practical Welding Letter for November 2015.
Click on PWL#147.
An Article on New ASME BPVC Section IX was published (7) in Issue 169 of Practical Welding Letter for September 2017.
Click on PWL#169.
Visit our page on Accident Investigation for a thorough treating of this subject, for finding the real reasons behind the Accident occurrence.

---
If you did not yet find what you need, why not typing your question in the following Search Box?

---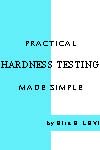 Let us remind you that, if you are interested, we offer
a no cost subscription to our Practical Welding Letter and
a bonus book in pdf format to be made available for download to your computer on the subject of
PRACTICAL HARDNESS TESTING MADE SIMPLE.
Please Subscribe!.




To reach a Guide to the collection of the most important Articles from Past Issues of Practical Welding Letter, click on Welding Topics.
Back Home
Welding Overview
Site Map
QUALITY

We used to remind to our readers titles and links to our informative pages on:
welding basics,
welding processes,
welding materials and
other welding related subjects.
We are informed that publishing a list of internal links in website pages, is judged as
objectionable practice
by companies that grade the relevance of the page content to
users' usefulness
. Therefore, in an effort to comply with the above requirement, we remove the usual list appearing in this location, and urge our readers to use the
Site Map
to locate the pages that might provide them the
answers to their questions
.
Service-failures Top
---
---

Watch the following Video
Click on the following image to watch the SBI! TV Show!

---
POWERED BY:


Click on this Logo NOW!