Artbooks
of Welded and Brazed Creations.
SOLUTIONS with Effective, Practical Advice
Artbooks of artistic welded metal realization are not only Catalogues: they can be powerful, seminal sources of ideas for the Hobby Welder.
Some Artbooks even propose simple projects and give examples of welded metal items, to encourage newcomers to try on their own new forms of unique expression.
Welding is not only technology. For sensitive and creative people it is also a powerful mean of expression. Presentation of artwork is best done in exhibitions and Art Books.
The use of welding for realizing work of art is probably as ancient as welding itself.
For those tending to think that welding is a modern technology we should note that the process called forge welding was used since the emerging of the Iron Age by ancient blacksmiths.
And brazing of gold and bronze art objects was even older.
---
If you did not yet find what you need, why not typing your question in the following Search Box?

---
Artbooks as Sources of Examples
For getting inspiration and nurturing with artistic seeds your creative imagination browse the following Artbooks and admire beautiful examples of fine artwork.
Valuable Artbooks are also a good idea for a gift to a hobby welder and to creative handcraft amateurs.
What about reading in Artbooks the words of the artist presenting works and tips? Choose from the following list of Artbooks and video.
Some Artbooks may encourage students without previous welding experience to try welding on their own: we do not recommend this course of action.
You are not dealing with a pen or a paint-brush. Let us face it: a welding torch or outfit in inexpert hands can be dangerous.
But dangers are eliminated if safety precautions are learned, understood and constantly applied.
Let us stress that welding basics should be learned in a good Welding School.
Students will get not only good attitudes towards safety issues, but will also catch fine details of manual skills from observing the work of accomplished welders.
Instructors may get their chance to correct bad habits right from the start.
Then the time will come to practice and to get experience by oneself and also to enjoy the satisfaction of realizing personal artwork and, who knows? even to present the artwork in new Artbooks.
See out page on Hobby and Home Welding
for useful information.
---
Books
Welding for Arts and Crafts
by Dewayne Roy
First Edition
Publisher: Thomson Delmar Learning
Paperback 156 pages
1 edition (January, 2003)
Note:
Although the Author claims that no prior welding experience is assumed, it is questionable if good results can be obtained without basic learning.
Do not neglect safety issues.
Learn welding and then apply your knowledge to realize your artistic endeavors.

Home and Garden Metal Crafts
by Jana Ewy
Paperback: 96 pages
Publisher: North Light Books;
1st edition (January 1, 2003)
Craft ideas are available from the book.
The book promises to make welding metal artwork easier!
Plenty of examples and instructions for welded art objects and home furniture.

Creating Welded Sculpture
by Nathan Cabot Hale
Paperback: 208 pages, 196 illustrations.
Publisher: Dover Publications;
Reprint edition (July 1, 1994)

Well illustrated guide, offers coverage of basic tools and techniques of welded sculpture and modeling.




Welded Sculpture of the Twentieth Century
Judy Collischan (Associate Director for Curatorial Affair, the Neuberger Museum of Art, New York).
This book was published in conjunction with an exhibition held at the Neuberger Museum of Art from May 14 to Aug. 27, 2000.
Hardcover: 140 pages, 194 illustrations (98 in colour)
Publisher: Hudson Hills Press,
First Edition, NY 2000.

Artists featured in this book included Pablo Picasso, Laszlo Moholy-Nagy, Harry Bertoia, Phillip King, Anthony Caro, Lynn Chadwick and Eduardo Paolozzi, and more.
VIDEO
Sculpting with Welding with Hunter Herman, Vol. 1 VHS
Starring: Hunter Herman
Format: Color, Full length, Full Screen
Studio: (not provided) Video Release Date: June 26, 2000
VHS Features:
NTSC format (US and Canada only. This VHS will probably NOT be viewable in other countries.)
Sculpting with Welding with Hunter Herman, Vol. 2 VHS




Making Welded Metal Sculpture (2002)
Director: Michael Booth
Format: Color
Rated: G
Studio: (not provided)
Video Release Date: December 23, 2002
VHS Features:
NTSC format (US and Canada only. This VHS will probably NOT be viewable in other countries.)








Jewelry Books
Maharajas' Jewels
by Katherine Prior, John Adamson
Hardcover: 208 pages
Publisher: Vendome Press









Indian Jewellery
by Usha R. Bala Krishnan, Meera
Hardcover: 335 pages
Publisher: India Book House (August 1, 2001)











Treasury of the World:
Jeweled Arts of India
in the Age of the Mughals
by Manuel Keene, Salam Kaoukji
Paperback: 160 pages
Publisher: Thames & Hudson (May, 2001)
Jewelry of Southeast Asia
by Anne Richter
Hardcover: 304 pages
Publisher: Harry N Abrams (November 1, 2000)
Jewels of the Nizams
by Usha R. Bala Krishnan
Hardcover: 240 pages
Publisher: India Book House (January 1, 2002)
Art Jewelry Today
by Dona Z. Meilach
Hardcover: 256 pages
Publisher: Schiffer Publishing (May 1, 2003)
The New Jewelry
by Peter Dormer, Ralph Turner
Limited Availability
Paperback: 216 pages
Publisher: Thames & Hudson; Revised edition (December 1, 1994)
Jewellery Moves: Ornament for the 21st Century
by Amanda Game, Elizabeth Goring
Paperback: 108 pages
Publisher: National Museums Of Scotland (December 1, 1998)
Modernist Jewelry 1930-1960: The Wearable Art Movement
by Marbeth Schon
Hardcover: 292 pages
Publisher: Schiffer Publishing (May 1, 2004)













Contemporary Japanese Jewelry
by Simon Fraser, Toyojiro Hida
Paperback: 128 pages
Publisher: Merrell Holberton (January 1, 2002)
Gold of the Pharaohs
~Hans Wolfgang Muller , Eberhard Thiem
Hardcover
Manufacturer : Cornell University Press
Release data : 01 October, 1999
The Encyclopedia of Jewelry-Making Techniques:
A Comprehensive Visual Guide to Traditional and Contemporary Techniques
by Jinks McGrath
Jewelry Making Techniques Book:
Over 50 Techniques for Creating Eyecatching Contemporary and Traditional Designs (Quarto Book)
Author: Elizabeth Olver
Watch the Video on John Lopez Sculptures / Iron on the Range
https://www.youtube.com/watch?v=BCwcKz4Rp8o&feature=related
See also:
Welded Sculpture
http://en.wikipedia.org/wiki/Welded_sculpture
* * *
Any questions or comments or feedback? Write them down and send them to us by e-mail. Click on the Contact Us button in the NavBar at top left of every page.
At your disposal there is a Library of Articles published in previous issues of Practical Welding Letter. A Guide, where Articles are grouped by Categories, showing Titles with links to the actual documents, is available by clicking on Welding Topics. Explore and Subscribe!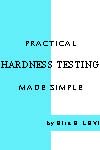 We offer you a no cost subscription to our monthly Practical Welding Letter and a bonus book in pdf format, downloadable to your computer, on PRACTICAL HARDNESS TESTING MADE SIMPLE.
Click here for your Subscription.

It is always important to know the hardness of any material before welding.



---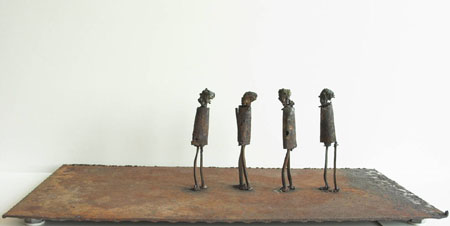 Johan 2


From: https://www.welding-advisers.com/images/Johan2.jpg

See a short Interview with Ken Evoy
Watch the following video...


POWERED BY:


Click on this Logo NOW!
Copyright (c) 2004, 2005, 2006, 2007, 2008, 2009, 2010, 2011, 2012, 2013, 2014, 2015, 2016, 2017
by Elia E. Levi and www.welding-advisers.com
All Rights Reserved.
Artbooks show examples of significant artistic realizations and provide sources of themes to elaborate on. Artbooks are also perfect gift ideas.