Process-optimization
Improves Productivity
Note: To view Google Ads, Pls.
Right Click and
Open in a New Window.
Why Process-optimization?

Because it is probably the easiest way to gain incremental productivity advantages.
These can sum up to significant progress likely to make a difference in the bottom line of any welding operation.

Any established production process is defined by the means required to carry it out and by a set of parameters known by experience to provide successful outcome.
Although codes require the establishment of a Welding Procedure Specification (WPS) to identify essential variables, it is good practice to list the applicable non-essential and supplementary essential variables, as well as all specific operational detail of the process.

Generally the acceptable parameters can vary somehow within limits, which were developed empirically by those who tested the procedure.
Once the procedure is approved, it is frozen, meaning that no change can be introduced without authorization.
Integral part of Process-optimization is a strict control on quality. An Article on Weld Quality Monitoring was published (3) in Issue 137 of Practical Welding Letter for January 2015. Click on PWL#137 to see it.

Note: To view Google Ads, Please
Right Click and
Open in a New Window.
---
Why should you implement Process Optimization?
Following the principle that anything that works should not be touched, it is quite probable that no efforts are made to optimize the procedure, even it is used for a substantial portion of the production program.

It stands to reason however that well directed Process optimization efforts could provide measurable productivity advantages valued at many times their cost.
Local management should study a specific situation and evaluate the odds that such a favorable outcome would repay handsomely the costs incurred in testing.

Every management advisory proposal suggests looking for avoidable waste, by recording actual procedures and results, to enable elimination of wasteful practices that reduce productivity.

See the articles by Naddir M. Patel on
The Importance of Optimizing Material Specifications and Welding Protocols, published (2) in PWL#120 and 
Process-optimization and Innovation in a Fabrication Environment, published (2) in PWL#102.

It is suggested that, before tackling any Process-optimization procedure, a baseline assessment be performed, recording at least the deposition rate: if this is not known, it should be calculated.

Then, if possible, an improvement goal should be formulated, say a 5% increase in deposition rate, that should translate in reduced time per production unit.

Basic information on actual cost calculations was provided in our page on Welding Cost Estimate.

General Advice on Process-optimization is available in the following online publications.

Improve your Welding profitability and Productivity
Advice and Real World Examples for Manufacturers.
http://www.millerwelds.com/results/KBI_Manufacturing.pdf

Reducing Your Welding Costs
http://www.lincolnelectric.com/en-us/support/process-and-theory/pages/reducing-welding-costs-detail.aspx

For experimenting with parameter changes one should consider the actual process used and the results anticipated. Thorough testing should be used for assessing the improvement obtained.

While empirical experimenting with different changes may provide useful hints as to which modifications are likely to provide most advantage, there is a systematic method of Designing of Experiments (DOE), bearing  the name of Taguchi, the Japanese researcher who improved statistical analysis for industrial processes.

This protocol for Process optimization can be studied from the following publication and from several books.

Design of Experiments Using The Taguchi Approach (35 pages)
http://nutek-us.com/DOE_Topic_Overviews35Pg.pdf
(Available for free download and review.)

Search also www.sme.org for "A Primer on the Taguchi Method"

Process-optimization contributes to make the procedure more Robust, that is less likely to be adversely affected by occasional variations of influencing factors.

One should therefore conclude that Process-optimization is not a technological task to be pursued at leisure but a major contribution to be actively promoted as essential to assuring sound business.
Downloadable online Publication on the subject:
Experimental Test Strategy For Six Sigma Levels of Process Improvement
http://d577289.u36.websitesource.net/articles/SPA_SAMPE_Pres2004_28.pdf
---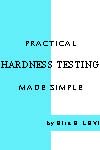 Let us remind you that, if you are interested, we offer
a no cost subscription to our Practical Welding Letter and
a bonus book in pdf format to be made available for download to your computer on the subject of
PRACTICAL HARDNESS TESTING MADE SIMPLE.
Please Subscribe!.





To reach a Guide to the collection of the most important Articles from Past Issues of Practical Welding Letter, click on Welding Topics.
Note: To view Google Ads, Please
Right Click and
Open in a New Window.
---
Back
Home
QUALITY
Site Map
Welding Standards
Welding Control
Welding Testing
Welding Qualification
Welding Inspection
Brazing Inspection
Weld Macro
Welding Distortion
Welding Defects
Service Failures
Welding Production Failures
Weld Cracking



Process-optimization_Top
---



Watch the following Video

Click on the following image to watch the SBI! TV Show!




Watch - The Video:
Why Don't I Work From Home?
and also
Think outside the Cube.
---
POWERED BY:


Click on this Logo NOW!