Brazing-aluminum:
How to obtain Good Results.
SOLUTIONS with Effective, Practical Advice
Brazing aluminum: Art or Science?
Brazing-aluminum can be an economic manufacturing process.
It depends on the presence of suitable conditions that make this assembly method preferable to alternative solutions.
Advantages and limitations in general were outlined in our page on Brazing.
How to decide which method is the best?
The rules for correct Brazing Joint Design and the different methods of Brazing Heating were explained in these other pages.
If only a few joints are required, then manual Torch brazing may be suitable and economic provided that skilled workforce is available.
If many joints have to be made at one time in one or many parts, then aluminum Brazing in a Furnace or in a molten flux pot can be the right thing to do.
In these cases, although the process has to be run under strict control, there is no need for manually skilled operators.
Equipment can be quite expensive but production will be massive and economic.
Brazing-aluminum Basics
Here we are expanding somewhat on the particular requirements that must be understood to perform successful Brazing when Aluminum or Aluminum Alloys are the base metal.
ANSI/AWS C3.7:2005
Specification for Aluminum Brazing
American Welding Society, 29-Jun-2005, 28 pages

Two facts must be kept in mind when Brazing-aluminum. One is that aluminum oxide forms easily on the external surface of the base metal, interfering with brazing.
The other is that the brazing temperature is dangerously close to the melting range of aluminum alloys.
Special needs stem from these facts. One has to remove all existing aluminum oxide before brazing and prevent its formation anew while heating, and one must control precisely the heating cycle.
Most of the common aluminum alloys (types 1xxx, 3xxx, and low magnesium 5xxx) are brazeable in wrought, extruded or cast form. The exceptions (because they have low melting ranges) are alloy types 2xxx and almost all of 7xxx [7072 (used only as cladding material) and 7005 are excluded and therefore brazeable].
Aluminum die castings are not brazeable because of their high gas content that causes blistering on the surface.
Filler Metals
Common filler metals for Brazing-aluminum are aluminum silicon alloys. If flux is used then the silicon content is usually between 7 and 12%. If flux is not used, like in vacuum furnace, then silicon is more than 9% and some magnesium is added for promoting wetting.
The American Welding Society Classification of Aluminum Alloy Filler Metals for Brazing-aluminum is found in:

ANSI/AWS A5.8M/A5.8:2011
Specification for Filler Metals for Brazing and Braze Welding
Edition: 10th
American Welding Society / 17-Jun-2011 / 62 pages

and the International Organization for Standardization document is:

ISO 3677
Filler metal for soft soldering, brazing and braze welding - Designation
International Organization for Standardization, 01-Jun-1992, 2 pages

See also the following Specification:
SAE AMS 4185E
Filler Metal, Aluminum Brazing 12Si (4047)
SAE International / 03-Feb-2012

Filler metals are available as wires and as sheets or strips that can be cut or stamped and formed, to be placed near the joints before brazing.
Powdered metal and paste are also available, blended with flux and a binder, to be painted or placed at the joints.
Brazing sheets where the brazing filler metal is clad upon aluminum sheets are also available, mainly intended for high production, to avoid the extra work of pre-placing filler on the joint.
Stop-off materials may be needed to avoid that molten filler metal will flow over areas that must remain clean.
Interested readers may wish to browse through sources listed in our publication on Brazing in Bulletin 77.
Fluxes
The use of chlorides or fluorides containing fluxes (deoxidizers) is generally required except for Brazing-aluminum operations performed in vacuum. Fumes from these fluxes must be exhausted as they are harmful to health if inhaled. They are also highly corrosive to the metal if permitted to remain on the joints after Brazing-aluminum.
Flux kept molten in a bath can be used in dip brazing. Parts and fixtures must be preheated in a hot air furnace to drive out even traces of moisture that could cause steam explosions upon heating, and endanger operators. Molten flux most effectively heats the parts and the pre placed filler metal to brazing temperature and also deoxidizes the joints.
After drainage back to the hot bath, remaining flux is removed by immersing in boiling water parts and fixtures and scrubbing if necessary. Remaining stop-off, if used, shall also be removed.
ANSI/AWS A5.31M/A5.31:2012
Specification for Fluxes for Brazing and Braze Welding
Edition: 2nd
American Welding Society / 17-Feb-2012 / 38 pages

See also the following Specification:
SAE AMS 3412F
Flux, Aluminum Brazing for Torch or Furnace Brazing
SAE International / 16-Jul-2009

Non heat treatable Aluminum Alloys (Series 1xxx, 3xxx and 5xxx) need no additional heat treatment after brazing. Heat treatable base metal Aluminum Alloys (Series 6xxx) must be cleaned from the flux residual and then can be solution heat treated, quenched in water, and then aged as required.
Brazing-aluminum
The heating methods for brazing are described in our page on Brazing Heating mentioned above.
The skilled torch brazing operator engaged in Brazing-aluminum, has to observe the melting of the flux to evaluate the heat supplied to the joint. He/she must be careful because the filler metal will melt only a few degrees above the flux melting temperature.
These are important clues, because there is no change of color to advise upon reaching the brazing temperature, so near to the melting range of the base metal.
The slightly reducing flame (with excess of fuel gas) is always directed to the parts, not to the filler metal. If there is thickness difference, more heat is directed onto the thicker part.
For high production brazing of complex parts special purpose machines can be set up, where many torches are in fixed positions and the parts are fixtured on an indexing table.

For performing Furnace Brazing-aluminum a regular flux has to be pre placed in the joints, together with the filler metal, or else heating must occur in a protective atmosphere or in vacuum. The requirement for furnace temperature accuracy is very strict, at least +5.5 °C (+10 °F).
Dip Brazing-aluminum was introduced in our page on Brazing Heating. One should pay attention to the requirements of fixturing, preheating, drainage and flux removal.
Quality
It is important to test brazed assemblies to develop definite Brazing-aluminum procedures and establish required parameters, mainly temperatures and processing times.
Testing by metallographic examination shall determine wetting, filling, flux entrapment, porosity and other damaging conditions.
Destructive testing shall prove that design requirements are met. Visual inspection requirements shall verify the correct aspect of the brazed joints and filler metal penetration, if visible.
ANSI/AWS B2.2/B2.2M:2010
Specification for Brazing Procedure and Performance Qualification
Edition: 3rd
American Welding Society / 07-Jul-2009 / 86 pages

Safety
Minimum safety requirements are specified in the last edition of the following document, downloadable at no cost from the page indicated below:
ANSI Z49.1:2005
Safety in Welding, Cutting and Allied Processes
AWS Safety.
Conclusion
Brazing-aluminum is a complex subject that requires dedicated learning and attention if satisfactory results are sought in production. We hope that the information provided in this page helps to clarify the matter.
See also the following additional Resource on
Introduction to Brazing of Aluminium Alloys (24 pages)
http://www.eaa.net/eaa/education/TALAT/lectures/4601.pdf
The following books on Brazing can be purchased:
Principles of Soldering & Brazing
Jacobson, David M.
ASM International, 01-Apr-1993, 281 pages

AWS BRH
Brazing Handbook, Fifth Edition
American Welding Society, 01-Jan-2006, 700 pages

An Article on Corrosion Resistant Aluminum Brazing Filler Metals was published (4) in Issue 60 of Practical Welding Letter for August 2008.
Click on PWL#060 to read it.
An Article on Aluminum brazing overlap was published (3) in Issue 123 of Practical Welding Letter for November 2013. It is important as a design and strength issue.
Click on PWL#123 to see it.
An Article on Vacuum Aluminum Brazing was published (3) in Issue 132 of Practical Welding Letter for August 2014.
Click on PWL#132 to see it.
An Article on Filler Metal for Aluminum Brazing was published (4) in Issue 139 of Practical Welding Letter for March 2015.
Click on PWL#139 to see it.
Watch the following Video on
Brazing Aluminum
https://www.youtube.com/watch?v=RRWmpSE-hXk
* * *
Any questions or comments or feedback? Write them down and send them to us by e-mail. Click on the Contact Us button in the NavBar at top left of every page.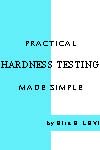 Let us remind you that, if you are interested, we offer a no cost subscription to our Practical Welding Letter and a bonus book in pdf format to be made available for download to your computer on the subject of
PRACTICAL HARDNESS TESTING MADE SIMPLE. Click on Subscription.
To reach a Guide to the collection of the most important Articles from Past Issues of Practical Welding Letter, click on Welding Topics.
Brazing
Brazing Joint Design
Brazing Heating
Brazing Copper
Brazing Stainless Steel
Brazing Cast Iron
Brazing Titanium
Brazing Ceramic
Brazing Steel
Brazing Nickel
Brazing Inspection

---
If you did not yet find what you need, why not typing your question in the following Search Box?

---
---
---
Entrepreneurship
Watch the following Video...
Click on the following image to watch the SBI! TV Show!

POWERED BY:


Click on this Logo NOW!
Copyright (©) 2008, 2009, 2010, 2011, 2012, 2013, 2014, 2015, 2016, 2017
by Elia E. Levi and www.welding-advisers.com
All Rights Reserved