Create-your-new-job!
Do not expect anything from anybody.
Create-your-new-job!
Note: To view Google Ads, Pls.
Right Click and
Open in a New Window.

Until when are you going to scan
"Help Wanted" ads in newspapers?

How many new unpleasant interviews are you going to bear?
To whom else are you sending your cleverly crafted CV (Curriculum Vitae)?
How often did they tell you that you are "Overqualified" for the job in question?
Take a break. Think anew.
So many people invented and successfully built their own new job.
There must be some merit and substance in it.
What if you could be your own employer?
You can, if you Create-your-new-job
At a certain age, somewhere near retirement, there is almost no chance to find a paid job. No matter what your diplomas, abilities, experience, consciousness, achievements...
Are you going to accuse yourself of being inadequate to find a decent job? Are you going to plunge into depression?
While you know perfectly well that in the present condition of the economy, there are no suitable jobs available, as simple as that.
So what? Are you doomed to idleness? Nonsense. Create-your-new-job.
Accept this: it depends on you.
It is a sad truth that unemployment may strike young people too, whatever their personal value and qualities.
Having planned by myself my new job upon retirement and having seen so many others succeed, I learnt a thing or two on how to Create-your-new-job.
I am convinced that it is a doable task if one is ready to summon one's will and drive and if one learns how to use honest and sincere help available.
This invitation to Create-your-new-job! is open to all those willing to take their future in their hands.
I think that by sharing what I know now and how I reached my goals, I might encourage someone to give a try to a new way of looking at how to Create-your-new-job with a constructive attitude, free of all hindrances that generally condition one's choices.
Note: To view Google Ads, Please
Right Click and
Open in a New Window.
---
How I Built my Site
I wrote in my page on How I Built my Site, how I thought, near the time I was due to retire, of exploring the exploding field of the Internet, of which I had no previous knowledge.
I was lucky to come across a company, SiteSell, initiated by a Medical Doctor, whose purpose it to help anybody find their way to build a viable online business.
I wish I had at that time some friend to help me with advice on how to Create-your-new-job for myself. But I had none, so that I had to search and decide all by myself.
I would be delighted to be the one who helps others in my turn, by showing what I was able to put together with the assistance of amazing SiteSell, and by assuring that previous experience is not necessary, because I too had none when I started.
As I see it a few years later, it was indeed a happy decision I took, that gave me much satisfaction. This path had been then still uncharted for me. I believe it would only do well to other people too, and I urge all to have a look at it and possibly be inspired to explore deeper into it on how to Create-your-new-job.
I am sure that a similar decision, to Create-your-new-job, with all due differences, could appeal also to a great number of people who still look for their unique way to free themselves from an unsatisfactory job or even from having no job at all.
The new way is valid not only for me but for anyone who can summon one's energy to start an independent enterprise that depends only on one's will to succeed.
In the following few pages I show all I did, what and how. I refer also additional informative material about the above mentioned SiteSell, including the download at no cost of many valuable books.
You may explore what is it all about in my page on Site Building, that attempts to explain in brief a few important aspects of the whole program.
Next you may find some highlights from a practical and helpful book in my page on Make Your Site Sell. If you follow the link you will be able to download this SiteSell book now at no cost.
All the Tools you Need
At the time I wrote the following paragraphs, the basic tools were enabling anyone to build successful websites. By now (March 2012) a lot of new friendly and useful tools were added making this amazing Company really unequaled as a Business Building Tutor.
In a few days the completely rebuilt tool called "Block Builder 2" is to be released. It is not only a Page builder for all those who don't know the basics of the internet tools (HTML language), it is easy and fun to use.
Click on the banner at left and you will be introduced to the amazing power of the System, of which the Block Builder 2 is only a small, if quite visible, part.
Inevitably the following links, while still good, may be somewhat obsolete, superseded by the new tools available. Enjoy!
* * *
I wrote on how I used the tools available from SiteSell in my page on
the SBI Builder Toolbox. I hope it makes clear that using those tools one can obtain quite acceptable results with no previous experience.
A general view can now be enjoyed by browsing
The Complete Solo Build It! Reference Center.
An important Reference Source is available by clicking on
Downloads of SiteSell e-Books,
and by clicking on
SiteSell Resources you will find other valid information.
Unique SiteSell
I recommend the competence, the thoroughness, the candid help offered by this amazing Company, SiteSell Inc. and by its Founder, President and Owner, Dr. Ken Evoy, whose knowledge, experience, energy, enthusiasm and passion, permeate all their philosophy and strategy.
They were instrumental in helping me build my Site. And I know they do the same for anybody like you with serious intentions and firm perseverance to Create-your-new-job.
They are the best in the whole Internet for small and new e-business people like you and me. And they constantly add new capability and benefit laden features included in the same basic low cost. How low? Less than a dollar a day!...
Do not let your chance go by. Do it now.
* * *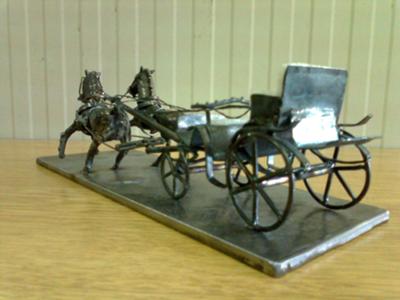 Horse Carriage
[From https://www.welding-advisers.com/gallery.html#MY WORKS]
Any questions or comments or feedback? Write them down and send them to us by e-mail. Click on the Contact Us button in the NavBar at top left of every page.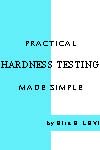 Let us remind you that, if you are interested, we offer a no cost subscription to our Practical Welding Letter and a bonus book in pdf format to be made available for download to your computer on the subject of
PRACTICAL HARDNESS TESTING MADE SIMPLE. Click on Subscription.
To reach a Guide to the collection of the most important Articles from Past Issues of Practical Welding Letter, click on Welding Topics.
Note: To view Google Ads, Please
Right Click and
Open in a New Window.
---
Welding Overview
Process-selection
Friction Welding Processes
Friction Stir Welding
Friction Surfacing
Flash Welding Process
Stud Welding
Upset Welding
Resistance Welding Processes
High Frequency Resistance Welding
Projection Welding
Gas Welding Processes
Arc Welding Processes
High Energy Welding Processes
Laser Drilling

---
Click on the following image to watch the SBI! TV Show!

POWERED BY:


Click on this Logo NOW!
Copyright (c) 2006-2010, 2011, 2012, 2013, 2014, 2015, 2016, 2017
by Elia E. Levi and www.welding-advisers.com
All Rights Reserved