Electronbeam-welders
and High Energy Beams:
SOLUTIONS with Effective, Powerful Advice
Electronbeam-welders for High Energy Density
Welding Problem? Solve it! with
Help from a Welding Professional
Contact Us.
Are Electronbeam-welders for You?
Electron Beam Welding Equipment
Electronbeam-welders and other high energy welding equipment may not be found in every welding shop.
One should appreciate though, that certain classes of welding jobs can be performed successfully and economically only on this type of expensive machines.
It is therefore important to be able to recognize those joints with deep, narrow welds.
Difficult to weld materials or mixed joints are examples. An overview is offered here to give some ideas.
In a previous page on High Energy Welding Processes a short review was offered.
Electronbeam-welders and other High Energy equipment
Tip!: There is a market for used and reconditioned Electronbeam-welders, which, being less complicate than new equipment, cost much less and may still provide basic capability to perform EB Welding.
More skill is probably required but good results can be anticipated if controlled with adequate non destructive inspection.
Electronbeam-welders and HIGH ENERGY density equipment are a very specialized and quite sophisticate type of hardware.
They are set up to employ and exploit sources of concentrated heat precisely directed to provide narrow and possibly deep joints in a variety of situations.
The stream of highly energetic electrons, upon impinging on the workpiece yield their kinetic energy to the metal.
Note: To view Google Ads, Please
Right Click and
Open in a New Window.
---
That elevates rapidly the temperature to melting and vaporizing levels, thereby providing the conditions for a useful weld to be performed.
In most of the Electronbeam-welders the most impressive feature is the vacuum chamber, twice as large as the work one wishes to perform, taking into account the movements of the workpiece relative to the gun.
Special types of welding chambers try to reduce the dimensions, for a given part, by providing a longitudinal movement to the electron gun. This is perfectly feasible but introduces quite difficult issues of alignment and smooth motion.
The material for Electronbeam-welders vacuum chambers is usually mild steel. The construction has to sustain the crushing atmospheric pressure.
This is generally not an issue, because the thickness of the metal is dictated by the requirement of full absorption of dangerous x-rays, obtained as an unwanted by-product in the process.
The internal surfaces of the chamber are polished smooth and will not rust as long as kept under vacuum. The external surfaces are painted as usual.
Large windows with special protective glass capable of totally absorbing x-rays permit the operator to follow the welding inside Electronbeam-welders chamber.
The most adverse consequence of a large vacuum chamber is the length of the pump down time necessary for each job.
The three stages vacuum system of most Electronbeam-welders takes up quite a big part of the floorspace, especially for the high vacuum valves and for the diffusion pump.
Another big chunk is taken up by the electrical transformer and by the electronic controls.
Electronbeam-welders exist where welding is performed in partial vacuum or in air, but these are generally one purpose machines built for mass production around a product or a class of products, typically in the automotive industry.
The main advantage is saving of pump down time, and part size no longer dictates chamber dimensions; the weld itself, of limited penetration depth, is held at reduced working distance.
A protective gas can be supplied, if needed, at the point of welding.
A short note on EBW Repair of a rejected finish machined Casting was published in Section 3 in the June 2004 Issue No. 10 of Practical Welding Letter.
Click on PWL#010 to read it.
Using Filler Metal for Electron Beam Welding is the exception not the rule: but one should know when and how to apply it.
An Article on this subject was published in our Practical Welding Letter No. 12, issue of August 2004.
To read the Article click on PWL#012.
A short note on Plasma Window for EBW in air appeared (9.1) in issue 19 of Practical Welding Letter for March 2005.
To read it click on PWL#019.
An Article on Welding in Space was published in the Issue No.24 of Practical Welding Letter for August 2005.
To read it click on PWL#024.
An Article on Electron Beam Melting was published in issue 45 of Practical Welding Letter for May 2007.
For reading it click on PWL#045.
An Article on EB Welding at Reduced Pressure was published (7) in Issue 92 of Practical Welding Letter for April 2011.
Click on PWL#092 to see it.
To receive at no cost all the issues of PWL as they are published, please subscribe.
Laser Welding Equipment
LASER WELDER is similar to the above Electronbeam-welders in that it provides concentrated beams of high energy density useful for melting and vaporizing metals and realizing thin and deep welds.
But the energetic beam is produced in quite a different way. Atoms of specially selected elements are first excited in a so called laser cavity.
There, by application of external energy, they are induced to release definite photons, or units of light, then harnessed and extracted by optical means to provide useful work.
The monochromatic beam is highly collimated and in phase and is focused on the joint.
Depending on the materials into which the production of laser beam is obtained one speaks of gaseous (usually carbon dioxide) or of solid crystal laser generator.
Each different material produces a laser beam of different wavelength and color, with different properties as to absorption and usability.
Medical applications, music reproduction, data collection from "barcode" labels, precise dimensional measuring are only some of the applications using laser.
Welding is one more such application having its set of requirements and parameters, specifically high power density.
Once the welding application is selected, a manufacturer is contacted to discuss the materials and the joints to be manufactured.
These data will establish the recommended wavelength and the maximum power required for continuous operation.
Apart from the laser itself there is list of optical accessories to be discussed and procured, among other accessories, like shutter, collimator, bending mirror, optical fibers and objective focusing lens.
The laser equipment can be mounted on an existing manufacturing facility like a roll forming tube mill, or integrated on a Computerized Numerical Control (CNC) machine designed to follow the required movements of the workpiece relative to the welding beam.
One should also remember that laser equipment of this type can be used, with necessary adaptations, also for Laser Beam Cutting and for Laser Drilling.
An Article on Laser Beam Welding was published in the September 2004, Issue No. 13 of Practical Welding Letter.
To read the article, click on PWL#013.
An Article on Laser Hybrid Welding was published (7) in the December 2004, Issue No. 16 of Practical Welding Letter.
Click on PWL#016 to read it.
An Article on Fiber Laser Girth Welding was published (11) in Issue 36 of Practical Welding Letter for August 2006.
Click on PWL#036 to read it.
An Article on Fiber Optic Sensor Technology using Laser was published (7) in issue 40 of Practical Welding Letter for December 2006.
Click on PWL#040 to read it.
An Article on Laser fused Material Deposition was published in issue 43 of Practical Welding Letter for March 2007.
To read it click on PWL#043.
An Article on High Energy Drilling was published (7) in Issue 49 of Practical Welding Letter for September 2007.
Click on PWL#049 to read it.
An Article on Integrated Laser Welding and Cutting was published (2) in Issue 68 of Practical Welding Letter for April 2009.
Click on PWL#068 to see it.
To receive the newsletter as it is released, please subscribe at no cost.
View the following Video on:
Radial Electron Beam Welding (EBW)
https://www.youtube.com/watch?v=HvYcEEt4K0A
* * *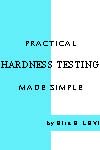 To reach a Page, listing the most important Articles from Past Issues of Practical Welding Letter, click on Welding Topics.
For your FREE subscription to our periodic Practical Welding Letter and for downloading your FREE copy of our book right to your computer (in pdf format) on PRACTICAL HARDNESS TESTING MADE SIMPLE, just click here.
It may well be what you need to be saved from costly mistakes...
For any questions on these subjects, write us by e-mail. Click on Contact Us.
Note: To view Google Ads, Please
Right Click and
Open in a New Window.
---
Back HOME
Back to Site Map
Back to EQUIPMENT
Friction Welding Equipment
Friction Stir Welding Equipment
Resistance Welding Equipment
Gas Welding Equipment
Arc Welding Equipment
Welding Positioner
Robotic Arc Welding Hybrid Welding
Wave Soldering
Hardfacing
Thermal-spray
Cold Spray
Weld Cladding
Case Hardening
Surface Engineering
Aluminum Finishing
Diffusion Welding

---
If you did not yet find what you need, why not typing your question in the following Search Box?

---
---
---
Watch the following Video...
POWERED BY:


Click on this Logo NOW!
Copyright (c) 2003-2008, 2009, 2010, 2011, 2012, 2013, 2014, 2015, 2016, 2017
by Elia E. Levi and www.welding-advisers.com
All Rights Reserved.

Electronbeam-welders and other expensive high energy welding equipment are sometimes the only solution permitting economical manufacturing or repair...