Ultrasonic-cleaning
for demanding applications.
SOLUTIONS with Effective, Practical Advice
Ultrasonic-cleaning removes most stubborn soils
Welding Problem? Solve it! with
Help from a Welding Professional
Contact Us.
Note: To view Google Ads, Pls.
Right Click and
Open in a New Window.
Ultrasonic-cleaning is performed for removing a variety of soils and contaminants.
It uses high frequency sound energy to agitate a suitable cleaning solution in which are immersed small and delicate parts.
In the process micron-size bubbles form and grow (by cavitation) due to the alternating pressure waves.
The sudden implosion of the bubbles releases a vast amount of impact energy.
This produces a high-energy liquid stream that collides with the surface of the objects being cleaned.
Contaminants adhering to the surface are dislodged at micron levels.
Ultrasonic-cleaning is often used as the last and definitive cleaning process, after most of the soil was already eliminated by other methods.
The action penetrates blind holes, cracks, intricately shaped parts and recesses.
This process removes contaminants adhering to all types substrates.
A number of factors influence the success of the operation.
These include type of soil and adherence, type of cleaning solution, temperature and power of cleaning device.
Ultrasonic-cleaning is quite powerful to remove tough contaminants, yet sufficiently gentle not to damage the substrate.
Ultrasonic-cleaning is used to clean jewelry, lenses and other optical parts, watches, dental and surgical instruments, fine industrial parts and electronic equipment.
Besides other purposes it is also employed for removing forming, buffing and polishing compounds prior to plating operations.
Note: To view Google Ads, Please
Right Click and
Open in a New Window.
---
Plain water would not provide effective cleaning.
Aqueous cleaning solutions contain detergents, wetting agents (surfactants) and other components, having a large influence on the cleaning process.
The correct composition of the solution depends on the substrate and on the type of soil to be removed.
It may be at room temperature or mildly warm.
Acetone and other solvents can be used, but care must be exerted to make sure that environmental protection rules are respected.
Ultrasonic-cleaning is performed in specially made small containers, having an ultrasonic transducer firmly attached to the bottom.
A suitable power supply feeds the transducer with high frequency electrical energy.
The frequency may be fixed or sweeping through different values, modulated slightly above and below the central frequency, to avoid standing waves.
Larger amounts of energy, suitable for more intense cleaning action, are released upon implosion of larger size of cavitation bubbles.
These are caused by lower frequency of the ultrasonic generator.
Smaller sized bubbles produced by higher frequencies provide a gentler cleaning action.
The use of Ultrasonic-cleaning has become increasingly popular due to the restrictions on the use of chlorofluorocarbons (see Vapor Degreasing).
Because of these limitations, many manufacturers and surface treaters use now immersion cleaning rather than solvent-based vapor degreasing.
The purpose of development of the most suitable sequence of methods, is to provide consistently the required level of cleaned surfaces.
As with all cleaning processes, this may need time and different trials until an effective and economic solution can be adopted.
As usual, there is no substitute for knowledge and testing, to find the right circumstances where Ultrasonic-cleaning is most effective.
The correct maintenance of all parameters is essential for continuing success.
Watch the following Video (no endorsement intended)
Ultrasonic Cleaning Demonstration
https://www.youtube.com/watch?v=5GdTFwmnoDY
* * *
Any questions or comments or feedback? Write them down and send them to us by e-mail. Click on the Contact Us button in the NavBar at top left of every page.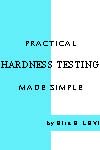 Let us remind you that, if you are interested, we offer a no cost subscription to our Practical Welding Letter and a bonus book in pdf format to be made available for download to your computer on the subject of
PRACTICAL HARDNESS TESTING MADE SIMPLE.
Click on Subscription.
To reach a Guide to the collection of the most important Articles from Past Issues of Practical Welding Letter,
click on Welding Topics.
Note: To view Google Ads, Please
Right Click and
Open in a New Window.
---
Surface Engineering
Vapor Degreasing
Abrasive Blast Cleaning
Solvent Cleaning
Aluminum Finishing
Diffusion Welding
Repair Welding
Adhesive Bonding
Adhesive Joint Design
Mechanical Fastening
Shot Peening
Tack Welds
Clinching
Laser Drilling
Stress Relieving
Weld Preheating
Heat Treating

---
If you did not yet find what you need, why not typing your question in the following Search Box?

---
---

Watch the following Video
Click on the following image to watch the SBI! TV Show!

BUILT BY:


Click on this Logo NOW!
Watch - The Video:

and also

---
Follow SiteSell and you will be amazed...
SiteSell Facebook
http://facebook.sitesell.com/Quark.html
SiteSell Twitter
http://twitter.sitesell.com/Quark.html
On SiteSell Twitter, visitors will learn who SiteSell is, through each person delivering personal insights into SiteSell... his news, his interests and perspectives. They can interact with each "SiteSeller" too, asking questions of programmers, coaches or anyone else.
SiteSell YouTube
https://youtube.sitesell.com/Quark.html
SiteSell Blog
http://blogit.sitesell.com/Quark.htm
Copyright (©) 2011, 2012, 2013, 2014, 2015, 2016, 2017
by Elia E. Levi and www.welding-advisers.com
All Rights Reserved