Welding-projects
to perform with skill and care.
SOLUTIONS with Effective, Powerful Advice
Express Yourself through Your Own Welding Projects!
Welding Problem? Solve it! with
Help from a Welding Professional
Contact Us.
Note: To view Google Ads, Pls.
Right Click and
Open in a New Window.
Welding-projects to nourish your passion
Welding-projects, simple and straightforward, can be realized for fun and self improvement, for one's hobby welding shop, for the house, the garden, the farm.
A free welding project may be perfect for giving you ideas to carry out, a home welding project can keep you happy, busy and active over the weekends.
---
Visit the NEW Page on Weld-design-review, for
avoiding costly oversight.
Visit the NEW Page on Welding Applications, for
selecting correctly the ways and means needed for productive performance.
Visit the NEW Page on Welding Problems,
for looking into the causes of production hindrances.

---
Are you ready for your Welding-projects?
Start with a small welding project, for beginner, you will add complexity once you gain experience.
If you enrolled in a welding school, you will enjoy the assistance of an experienced instructor, you may be assigned a student welding project, usually specified in a well explained welding project plan, good for gaining confidence. Or you can be associated with a project for a welding class.
If you are specializing in arc welding, you may seek a free arc welding project. A metal welding project can also involve artistic work: you may find many examples in books and when you travel, if you look around. See Welding Art Books and Video.

Only you can decide if it is a sufficiently simple, easy welding project. Generally what is available online or on selected books, can be classified as a diy (do it yourself) welding project, but some self criticism and restraint is in place to evaluate if the difficulty is commensurate with your experience.
However easy and plain, whatever you build following one of your Welding-projects has its own weight, it might come down, it might hurt somebody if it is not stable, or if it is shattered.
Let us stress once again that the most important item in all this is...
Safety First:
1 - When you actually weld your things, you should already have a strong background on equipment, maintenance and operation safety, for yourself and for whoever might be around looking at your work.
You should have learned the basics at your welding school. You should have prepared a check list for all important points to control in your equipment on a regular schedule, and implement it responsibly.
If you did not yet do it, download now at no cost from
http://www.aws.org/technical/facts/Z49.1-1999-all.pdf
the following document:

ANSI Safety in Welding, Cutting and Allied Processes
Document Number: AWS Z49.1-99
American Welding Society
29-Jan-1999
60 pages

Then print, read and learn it! It is important for your Welding-projects.
2 - Remember, when you bring home your welding equipment and materials, you are actually playing with fire. Whatever process you may be using for your Welding-projects you are working with concentrated energy sources. If they run out of control, painful and costly damages may be caused.
Make sure you do not have around flammable or combustible materials. Keep children out of your home shop. Keep handy fire extinguishers of the recommended types for the work you are doing.
Wear personal protection accessories (helmet, mask or goggles, apron, gloves, long sleeves jacket, cap, work boots etc.) as you would use at work: the hazards are the same, but at home you may be alone with the dangers. Care for ventilation and fume extraction. Do not let negligence or laziness spoil your fun with Welding-projects.
3 - Be careful with what you build. Do not forget that you are responsible for any wrong use or misuse anybody (even a thief!) could do with your construction.
In case a personal injury arrives upon someone, who do you think will be blamed? Correct, it is you. It could be a swing for kids, or a rung ladder, or a shelf, anything: if it comes down it hurts.
Make sure it will not topple over. Stability is important. Therefore you should be careful with the source of your Welding-projects. If possible select only from those proposed by professionals.
Look for sturdy construction, light but steady. With some experience you will soon become confident. If you have friends with practical wisdom listen to their opinion.
Note: To view Google Ads, Please
Right Click and
Open in a New Window.
---
Materials and Processes
You should select for your Welding-projects only weldable materials like mild steel. If you have suitable equipment and at least some experience you might be able to weld or braze austenitic stainless steel, copper or aluminum of the weldable kinds.
You should be careful with the temptation to collect old scraps in a junkyard, unless the owners can show you by inexpensive x-ray fluorescence testing (see Material Identification) that every single piece selected is indeed mild steel or whatever you may be willing to work with.
If you have some welding practice and you keep getting cracks, the wrong material would be the first culprit to suspect.
You will probably work with whatever process you feel comfortable with and you have suitable equipment to operate. It would be a mistake to insist trying to apply wrong or inadequate processes to weld any material you get (i.e. too thick for the process).
In our page on Hobby and Home Welding
we expressed our views and preferences that you may look at as a guide.
We recommend that you learn the basics of any new process you may be interested to implement in a good welding school, unless you are already a skilled welder.
And also that, before you purchase any new equipment, you try to lease it for a short while to convince yourself that it meets your expectations.
Welding Projects
If you look for free sources of Welding-projects, we recommend that you limit yourselves to those provided by known and reliable sources. And that you select with caution.
We list hereafter a few sources that hopefully can be trusted, that feature, among other articles, also instructions and plans for Welding-projects. They may be ready to provide support you may need to perform your work.
NEW SOURCES ADDED RECENTLY
http://www.lincolnelectric.com/community/projects/
http://www.lincolnelectric.com/knowledge/articles/list.asp
http://www.tig185.com/community/articles/airplane.asp
http://www.millerwelds.com/education/projects/
http://www.zena.net/htdocs/welders/projects.shtml
http://www.weldingweb.com/archive/index.php/f-10.html
http://home.netcom.com/~dwelding/projects.htm
http://www.vintageprojects.com/welding-metal-projects.html
http://www.zannsworld.com/
http://fostertool.com/projects.htm
http://www.aussieweld.com.au/arcwelding/page23/page23.htm
http://www.weldingprojectsandweldingsupplies.com/index-welding%20projects.html
https://www.youtube.com/?v=epGBzQ_xdO8
You may find suggestions and comments in a forum like
http://www.hobartwelders.com/weldtalk/forumdisplay.php?f=5
http://www.hobartwelders.com/mboard/showthread.php?t=15874
http://www.weldingweb.com/forumdisplay.php?f=10
A good example of plans for a Folding Chair can be found at
http://www.digiplan.ca/general/foldingchair.pdf
Examples of students work con be seen at
http://www.witc.edu/pgmpages/welding/rl/project02.htm
http://www.witc.edu/pgmpages/welding/rl/project03a.htm
http://www.witc.edu/pgmpages/welding/rl/project04.htm
Additional student projects can be seen at http://faculty.icc.edu/eockerhausen/projects.asp
A list of projects are proposed at http://home.netcom.com/~dwelding/project.htm
If you are willing to share with other readers your experience with your Welding-projects, we would welcome any information you may give. Visit our new page Welding Talk and send us your comments and stories.
Here is a free welding projects and welding ideas resource you should check out.
* * *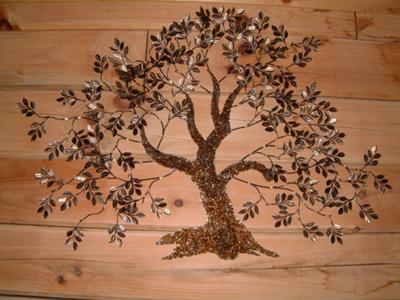 Artistic Steel Creation
[From https://www.welding-advisers.com/artistic-steel-creation.html]
Although this is not a project you would be expected to undertake, it may be interesting to look at. An Article on Raising a half sunken ship was published (7) in Issue 160 of Practical Welding Letter for December 2016.
Click on PWL#160.
Any questions or comments or feedback? Write them down and send them to us by e-mail. Click on the Contact Us button in the NavBar at top left of every page.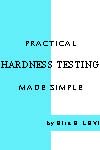 If you are interested, we offer a opt-in no-cost subscription to our Practical Welding Letter and a book in pdf format to be made available for download to your computer on

PRACTICAL HARDNESS TESTING MADE SIMPLE. Please Subscribe.
To reach a Guide to the collection of the most important Articles from Past Issues of Practical Welding Letter,
click on Welding Topics.
Note: To view Google Ads, Please
Right Click and
Open in a New Window.
---
Metals Knowledge
Cast Iron Welding
Steel Welding
Alloy Steel Welding
Tool Steel Welding
Stainless Steel Welding
Aluminum Welding
Welding Aluminum, Reprint from HIWT
Magnesium Welding
Titanium Welding
Copper Welding
Heat Resisting Alloys Welding
Joining Lead Tin Zinc
Refractory Metals Welding
Precious Metals Joining

---

If you did not yet find what you need, why not typing your question in the following Search Box?

---
---

Watch the video here.
Click on the following image to watch the SBI! TV Show!

POWERED BY:


Click on this Logo NOW!
Watch - The Video:

and also

Follow this Invitation!
Experience C2 power and flexibility in action by clicking SBI! 2.0 For You.
Where SBIers share their business-building experiences first-hand.
You will realize that there is nothing comparable to SBI! when you read
real stories from SBIers who share how C2 has helped them
expand, accelerate, build trust and monetize their sites.
Copyright (c) 2005, 2006, 2007, 2008, 2009, 2010, 2011, 2012, 2013, 2014, 2015, 2016, 2017
by Elia E. Levi and www.welding-advisers.com
All Rights Reserved.

Welding-projects, a long list to select from, for feeding you with ideas to work on in your spare time, for your satisfaction and gain.