Monitoring-structures
for timely failure prevention.
SOLUTIONS with Effective, Practical Advice
How to Foresee impending Failures
Welding Problem? Solve it! with
Help from a Welding Professional
Contact Us.
Note: To view Google Ads, Pls.
Right Click and
Open in a New Window.
Monitoring-structures is a most important need.
Continuing safe operation of constructions and structures has to be assured all along their useful life.
Their physical condition has to be assessed regularly.
Suitable maintenance activities may be required from time to time.
Every man made product, however well engineered and protected as manufactured, is bound to suffer in time from decay and deterioration.
Structures, used for performing determinate functions, are useful and safe for only a limited time period.
After that, corrosion damage, thinning of the thickness and crack development make them unsafe: Monitoring-structures is needed to detect and correct dangerous situations.
Corrosion under insulation is particularly insidious, because it is hidden, invisible.
Or other dangerous conditions may develop.
Such are formation of unstable metallographic phases, growth of creep and fatigue cracks, possible brittle fractures.
At some point in time, maintenance costs and service interruptions become unbearable.
Therefore such structures must be retired from active operation or demolished, if dangerous to people.
Otherwise access must be absolutely prevented to them.
Monitoring is especially relevant for aging structures approaching their design service-life limit.
In the past, building and fabrication may have been performed according to less stringent requirements.
Such needs are also urgent for those structures which sustained possible damages from unexpected overloads.
Monitoring-structures with embedded sensors
After severe earthquakes, their real conditions need assessment before being cleared for safe usage.
In this context the term structure is intended in its broadest meaning.
It includes anything built by human beings, and whose collapse would endanger life and/or property.
The readers of our Practical Welding Letter were introduced in the past to fatigue sensors.
These were developed to provide advance alert of progressing damage in structures while in service.
See:
Development of a fatigue sensor for welded steel structures
TWI.
On the same subject, a note was published in section 11 of Issue #030 for February 2006. Click on PWL#030 to see it.
Note: To view Google Ads, Please
Right Click and
Open in a New Window.
---
We dealt in the past with Monitoring-structures also in an Article on Remaining Life Assessment published (7) in Issue 56 of Practical Welding Letter for April 2008. Click on PWL#056 to read it.
Classic methods used for Monitoring-structures to detect cracks, corrosion, and fatigue in old constructions have definite shortcomings that undermine the efforts to ensure their safety.
Furthermore current inspection techniques are very costly, often requiring to shut down normal operations or activities during inspection.
In particular non destructive inspections are work intensive and time consuming.
They require specialized personnel and are bound to depend on subjective judgement.
In some cases, provided all external surfaces can be examined, Monitoring-structures is performed by visual inspection only.
This may be critical, inasmuch as those are usually the most stressed locations.
However, fatigue and failures start at micro crack levels and propagate in due time into major catastrophic events.
Many cracks are difficult to spot by visual inspection until they become large enough to be a potential hazard.
In the last few decades, much progress was achieved with advances in emerging technologies.
New materials, new sensors, electronic communication, and information processing were developed.
The goal is to provide the capability of Monitoring-structures constantly, from a distance.
This should be achieved by the application of special local devices for nondestructive evaluation of structural conditions.
Much research was devoted to develop non-intrusive active sensors for existing aging aerospace metal and composite structures.
These should monitor continuously the onset and progress of structural damage (fatigue cracks and corrosion).
The current trend is extended to concrete constructions, to bridges and high rise buildings, to pressure vessels and power generating equipment.
It is poised to find and implement cost effective means for Monitoring-structures, by implanting or attaching suitable sensors within any structure.
The purpose is to monitor their output in real time.
By duly elaborating the data with suitable software one should obtain clear indication of distress before it is too late.
There should be time to intervene, or at least to shut down and to evacuate the structure and its surroundings, before catastrophic collapse.
One method of Monitoring-structures which has shown promising results for such applications is the impedance-based technique.
Applications using Ultrasonic and Acoustic Emission sensors have also demonstrated encouraging reliability.
TWI pioneered the introduction of a fatigue sensor to be mounted integrally onto the structure.
It is designed to sustain the same cyclic stressing of the structure it is to monitor, and to develop in time a crack to be detected electrically.
Developers plan to derive from its behavior the part of the fatigue design life that has been used up.
Optical Fibers provide practical sensing capabilities in many applications, especially for bridges, where experimental applications were tested in practice.
In conclusion, with the continuing improvement of the hardware and of the analytic software, it is quite obvious that the application of suitable sensors on structures as they are erected, will increase.
For old constructions, studies will continue to implement the application of fracture mechanics methods.
The testing of actual mechanical properties of specimens, removed from suspected locations, will continue to provide risk analysis results and recommendations as to the safe residual life available.
A review of sensors and of recent publications presenting experimental applications of Monitoring-structures, was published in our Mid Month Bulletin No. 45 of Practical Welding Letters, released at mid January 2010.
Click on Structure Monitoring Sensors to see it.
An Article on Asset Integrity Management was published (11) in Issue 140 of Practical Welding Letters for April 2015.
Click on PWL#140 to see it.
Watch the following Video on
Structures Monitoring with Fiber Optic Sensors
https://www.youtube.com/watch?v=7iDVPGzuA60
* * *
Any questions or comments or feedback? Write them down and send them to us by e-mail. Click on the Contact Us button in the NavBar at top left of every page.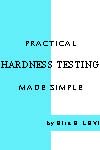 Let us remind you that, if you are interested, we offer a no cost subscription to our Practical Welding Letter and a bonus book in pdf format to be made available for download to your computer on the subject of
PRACTICAL HARDNESS TESTING MADE SIMPLE. Click on Subscription.
To reach a Guide to the collection of the most important Articles from Past Issues of Practical Welding Letter, click on Welding Topics.
Note: To view Google Ads, Please
Right Click and
Open in a New Window.
---
Back Home
Processes
Site Map


Friction Welding Processes
Friction Stir Welding
Flash Welding Process
Stud Welding
Upset Welding
Resistance Welding Processes
Projection Welding
Gas Welding Processes
Arc Welding Processes
High Energy Welding Processes
Micro Welding Processes
Additional Processes
Cold Welding
Ultrasonic Welding
Explosion Welding
Magnetic Pulse Welding

---
If you did not yet find what you need, why not typing your question in the following Search Box?

---
---
How could SBI! help you Retire
to useful and enjoyable life?
Watch the following Video...
SBI!: A New Day


Click on the following image to watch the SBI! TV Show!

BUILT BY:


Click on this Logo NOW!
Copyright (©) 2009, 2010, 2011, 2012, 2013, 2014, 2015, 2016, 2017 by Elia E. Levi and www.welding-advisers.com
All Rights Reserved